Germany and Denmark today agreed to work together to build a hydrogen pipeline between the two countries by 2028 at the earliest.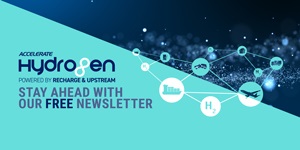 Hydrogen: hype, hope and the hard truths around its role in the energy transition
Will hydrogen be the skeleton key to unlock a carbon-neutral world? Subscribe to the weekly Hydrogen Insight newsletter and get the evidence-based market insight you need for this rapidly evolving global market
The pipe, which would at least partially be built underground, would send H2 across the land border from Jutland, western Denmark, to Schleswig-Holstein, northern Germany, according to the agreement signed in Copenhagen by Danish climate minister Lars Aagard and his German counterpart Robert Habeck, who is also economics minister and vice-chancellor.
The pipeline could be linked to the 2GW Megaton green hydrogen project announced in western Denmark in January by local renewables developer GreenGo Energy, which would be powered by 4GW of wind and solar.
When asked how much volume the infrastructure would transport, Habeck replied: "The more, the better."
A similar agreement was signed in January between Norway and Germany, with that pipeline — due to be built by 2030 — being a far more difficult and expensive prospect. as it has to bridge the North Sea.
Chancellor Olaf Scholz and Belgian Prime Minister Alexander De Croo also pledged in February to create a cross-border pipeline network between the two countries by 2028
Germany plans to consume 3-4 million tonnes of green hydrogen by 2030, with 50-70% of that being imported, according to a recent leaked government document — which has led German ministers to sign co-operation agreements on H2 with at least 26 potential export countries around the world.
The Danish parliament last year agreed to build 4-6GW of green hydrogen in the country by 2030.