The United Arab Emirates (UAE) government has approved a new national hydrogen strategy that envisages the federation producing 1.4 million tonnes of green hydrogen per year by 2031 and 15 million tonnes by 2050, in order to deliver its ambition to become one of the world's top green H2 producers.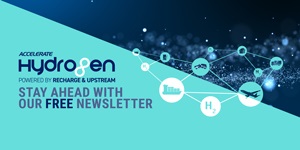 Hydrogen: hype, hope and the hard truths around its role in the energy transition
Will hydrogen be the skeleton key to unlock a carbon-neutral world? Subscribe to the weekly Hydrogen Insight newsletter and get the evidence-based market insight you need for this rapidly evolving global market
Details of the national hydrogen strategy — originally due to be published in April — are not yet publicly available, but officials told a press conference this afternoon that the UAE intends to develop at least two hydrogen production two hydrogen "oases", or production hubs, by 2031 with a view to then developing three more by 2050.
"The strategy contributes to fostering the domestic market, developing a regulatory framework and policies that support hydrogen as a sustainable fuel for the future, strengthening regional collaboration, and bolstering investments in research and development," said Sharif Al Olama, under-secretary for energy and petroleum affairs at the ministry of energy and infrastructure.
Hydrogen produced at the oases will be used to reduce 2031 emissions by 25% in sectors such as heavy industry, road transport, aviation and sea freight.
The document will additionally establish a green hydrogen research and development centre by 2031.
A statement from the UAE government this morning appears to re-affirm previously announced ambitions to be one of the top ten producers of clean H2 in the world and corner a 25% market share of global trade.
As of March, the UAE had around 28 green and blue hydrogen projects, seven of which had reached final investment decision, according to statements made by officials at the World Hydrogen MENA conference earlier this year.
The strategy comes as part of a wider update of its energy plans, which includes a tripling of its renewable energy generation by 2030.
The new national energy strategy pledges to increase public spending on all energy by between 150bn-200bn dirhams ($48-54bn) up to 2030, with clean energy making up 30% of the total mix by 2031.
"The strategy aims to [promote] the UAE's position as a producer and exporter of low-emission hydrogen over the next eight years through the development of supply chains, the establishment of hydrogen oases and a national research and development centre," said Emirati vice president Sheikh Mohammed bin Rashid Al-Maktoum.
While the national energy plan commits to increasing the share of renewables in its power mix, the UAE remains one of the world's biggest oil producers and has seen nearly a billion dollars in net profit in the past year from its national oil company Adnoc.
This, combined with the country's insistence that it can reduce emissions while continuing to expand oil & gas production in the short term, has caused environmental campaigners to describe the UAE's hosting of the COP28 climate talks this year — and the appointment of Adnoc CEO and Emirati minister Sultan Ahmed Al-Jaber as chair — as greenwashing.
UPDATED: to include additional information on the hydrogen oases and targets