The US is in danger of inadvertently using vast sums of cash — potentially more than $100bn — to subsidise a net increase in emissions from the production of hydrogen, unless it adopts stringent European-style regulations, a new coalition of US scientists, environmental campaigners and energy businesses has warned.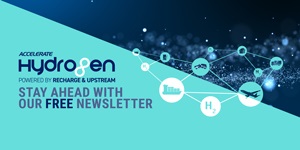 Hydrogen: hype, hope and the hard truths around its role in the energy transition
Will hydrogen be the skeleton key to unlock a carbon-neutral world? Subscribe to the weekly Hydrogen Insight newsletter and get the evidence-based market insight you need for this rapidly evolving global market
Under US President Joe Biden's flagship Inflation Reduction Act (IRA) green hydrogen producers will be able to claim a maximum production tax credit (PTC) of $3/kg, making US-produced green hydrogen the cheapest in the world.
But in a letter sent to a number of high-ranking US officials, including US energy secretary Jennifer Granholm and President Biden's own climate and energy advisors, the group said that the PTC could end up incentivising dirty fossil fuel power generation, if accompanied by weak regulation.
The fear is that subsidised grid-connected electrolysers could gobble up renewable power which would otherwise be used to decarbonise the electricity supply, leaving grid operators no choice but to call on coal, oil and gas-fired generators to replace the green energy.
Without robust regulation, the group says that renewable hydrogen production could at least double net emissions compared to grey hydrogen made with fossil gas — while at the same time costing more than $100bn public money.
"We are concerned that [the US] Treasury may adopt insufficiently rigorous guidance concerning the credit's implementation — especially as it relates to grid-connected electrolysers," said the letter, which was signed by 18 organisations, including the Union of Concerned Scientists, campaign groups the Environmental Defense Fund, the Natural Resources Defense Council and the Clean Air Taskforce.
"Using fossil-generated electricity or siphoning off renewables subsequently back-filled by fossil power to operate electrolysers — which would occur under loose guidance — generates at least twice the carbon emissions that status-quo gas-derived hydrogen emits."
Not only would this run counter to the US's stated climate goals, but it would also tarnish the reputation of the nascent green hydrogen industry, the group warned.
The letter's 18 signatories went on to call for tighter regulation coalesced around three pillars — additionality, deliverability and hourly matching.
"A robust body of research consistently identifies all three principles as necessary to guard against substantial emissions increases and drive the deployment of truly low or zero emitting hydrogen projects," the letter explained, going on to praise the EU's recently-published regulation on green hydrogen.
"The European Union's proposed rules in its Hydrogen Delegated Act firmly upheld all three pillars as necessary to demonstrate that hydrogen is "renewable" and has zero-carbon emissions," it said.
The additionality principle holds that green hydrogen production can only be truly renewable if it is made using new green energy supply — in the EU's case, less than three years older than the H2 facility — while hourly matching requires electrolysis plants to prove every hour that they have sourced their electricity from qualified renewables facilities, even if that power has come from the local grid.
Hourly matching will not be necessary in the EU until at least 2030. Until then, eligible grid-connected projects must prove they have bought or generated the same amount of green electricity over the course of a month as the power they have used — even if this means using coal- or gas-fired energy at times when the wind isn't blowing and the sun isn't shining.
While European hydrogen producers have argued that hourly matching would be extremely onerous and drive up the cost of green H2 production, especially in the short term, the letter states that US projects using these rules would be "extremely competitive from the outset".
"Renewable energy and hydrogen developers — including a subset of companies who have signed onto this letter [such as EDP Renewables and Nordex] — are already developing profitable projects that satisfy additionality, deliverability, and hourly matching," it says.
"This provides robust evidence that the system is technically and economically feasible. Developers can successfully manage operations by contracting for diverse clean resources, storing hydrogen, and ramping the electrolyzer load to match clean power availability; in fact, electrolyzer technologies are already capable of efficiently ramping to match variable generation profiles with major ancillary benefits for grid reliability.
"Further, ongoing financial modeling is robustly concluding that projects that satisfy the three pillars can be extremely competitive from the outset; claims that the three pillars would result in an industry that is 'dead on arrival' are therefore demonstrably false."