South Korea's Hanwha Impact has claimed a new record for the highest blend of hydrogen co-fired in a mid-to-large gas turbine, running an 80MW unit in in a power plant in Daesan, near Seoul, on 59.5% H2 with fossil gas.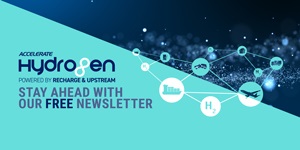 Hydrogen: hype, hope and the hard truths around its role in the energy transition
Will hydrogen be the skeleton key to unlock a carbon-neutral world? Subscribe to the weekly Hydrogen Insight newsletter and get the evidence-based market insight you need for this rapidly evolving global market
However, the company only reduced emissions of CO2 by 22% and nitrogen oxides (NOx) by 30% compared to running on fossil gas alone, raising the question of whether this is the most efficient method of decarbonising its asset base.
Hanwha Impact argues that co-firing hydrogen presents an alternative to stranding power plants that burn regasified liquefied natural gas (LNG), and owns two companies — PSM and ATH — that produce technology for retrofitting existing turbines to run on H2.
"We have proven that hydrogen-fired power generation using an LNG gas turbine is actually possible in Korea, and we are one step closer to commercialisation," said Hee-Cheul Kim, chief executive of Hanwha Impact.
The firm's parent company, Hanwha Energy, is also currently developing a 1GW LNG-to-power plant, due to start up in 2024 — which risks being stranded amid a national strategy U-turn on fossil gas in the energy mix.
Korea is one of the world's largest LNG importers, with the previous administration led by Jae-In Moon pledging to shift the country's energy system away from coal and nuclear toward gas and renewables. However, the new government led by Suk-Yeol Yoon has swung back to building out nuclear, with plans to cut LNG's share of the power mix down from nearly 30% in 2021 to 9.3% by 2036.
Fossil gas power plant operators hope that blending hydrogen may present a route through which they can claim decarbonisation in line with South Korea's 44% emissions reduction target by 2030.
But the highest blend to date offers meagre results for cutting both CO2 and air pollutants such as NOx that form during high-temperature combustion.
So while Hanwha Impact says that the trial resulted in the highest level of CO2 reduction from LNG-fired power generation to date, this was still only 22%.
The company also used its portfolio companies' technology to control combustion conditions and flame, since hydrogen has a higher flame temperature and burns 7-8 times faster than fossil gas, with the aim of reducing both damage to the turbine and pollutants in the exhaust. This resulted in NOx emissions of six parts per million, a 30% reduction compared to running the turbine on regasified LNG.
Hanwha plans to further trial 100% hydrogen-fuelled power generation.