A US start-up announced on Monday that it expects to begin construction this year on a new hydrogen power plant in Arkansas that "should produce over 500MW of emission-free electricity" when completed.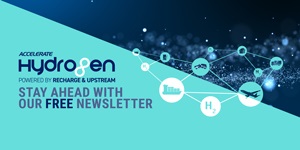 Hydrogen: hype, hope and the hard truths around its role in the energy transition
Will hydrogen be the skeleton key to unlock a carbon-neutral world? Subscribe to the weekly Hydrogen Insight newsletter and get the evidence-based market insight you need for this rapidly evolving global market
But Hydrogen Insight has learned that not only will Syntex Industries' project probably be far smaller, but that it will initially run on fossil gas until "the [green hydrogen] market and technology matures" — a detail not mentioned in the company's press release.
Tom Waggoner, CEO of Arkansas-based start-up Syntex Industries, tells Hydrogen Insight that the project in the small city of Clarksville is likely to start life running wholly or mainly on fossil gas, possibly in a hydrogen blend, until cheap clean H2 becomes available.
"As the market and technology matures", and production tax credits from the Inflation Reduction Act kick in, "we will move to 100% hydrogen or ammonia", he explains.
But Waggoner admits that "market conditions may dictate what fuels [we] use on any given day", and there is no guarantee the plant will ever fully run on hydrogen or its derivatives.
"We anticipate having the hydrogen available concurrently with the generators' commissioning, but there may be some mismatch for a while as we stockpile fuel for later use [to ensure a consistent supply]," he says.
And although the project has not finalised financing or even a design for the plant, Waggoner says the company has sufficient funds to begin site preparation for construction. "I anticipate breaking ground this year."
A further complication is that the agreement signed between Syntex and Clarksville mayor David Rieder — seen by Hydrogen Insight — states that the maximum electricity load of the city (which has an estimated population of 10,000) sits at 50MW, with the announced 500MW capacity dependent on new industrial users moving in. The plant will actually start up with 20-50MW of capacity.
Waggoner — who has a background in implantable eye lenses — says he expects to recoup investment entirely from these companies' energy use, while promising that local retail ratepayers will not see "any significant changes to their rates".
Clarksville's economic development director Steve Houserman confirms to Hydrogen Insight that the city will purchase power from the facility once it is on line.
The agreement notes that power purchased by the local government "will be to service new loads or to sell into the wholesale market in accordance with the [Oklahoma Municipal Power Authority] service contract terms at the time".
The city is still exploring how ownership will be arranged, as well as costs and incentives, but it has already allocated funding toward the project, Houserman says.
Syntex Industries — the operating subsidiary of SyntexNRG — also proposes to build an ammonia facility to store excess hydrogen produced at the power plant site, to be either developed in-house or in conjunction with a yet-to-be-recruited partner.
"Syntex has been working with Clarksville to develop methods to store excess renewable energy and regenerate it on demand," Rieder stated in the press release. "Recent technical developments and federal tax incentives have now made this project economically practical. This project offers the infrastructure to support our growing economy and bring new high paying 'ecodustrial' [ecological industrial] jobs to the area."
In addition to developing the power plant, Syntex also plans to build a 100,000-tonnes-per-year biomethanol plant within Clarksville city limits.
While Syntex describes its Clarksville project as the first "hydrogen hub" in Arkansas, it is not a part of the HALO consortium — combining projects across Arkansas, Louisiana and Oklahoma — which has applied for up to $1.25bn federal funding under the Regional Clean Hydrogen Hubs program.
Arkansas currently generates the majority of its electricity from fossil gas- and coal-fired plants. The US Environmental Protection Agency (EPA) has recently proposed hydrogen co-firing as a route for new and existing gas-fired power plants to decarbonise, albeit with strict emissions intensity requirements.