A pilot project in Western Australia that uses green hydrogen for energy storage has produced its first solar-powered H2, local developer Horizon Power has announced.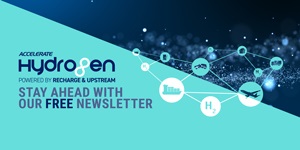 Hydrogen: hype, hope and the hard truths around its role in the energy transition
Will hydrogen be the skeleton key to unlock a carbon-neutral world? Subscribe to the weekly Hydrogen Insight newsletter and get the evidence-based market insight you need for this rapidly evolving global market
The Denham Hydrogen Demonstration Project in the small, remote coastal town of Denham, will produce about 13 tonnes of green H2 a year from two 174kW electrolysers powered by a dedicated 704kW solar farm — with the hydrogen then used to power a fuel cell that would help provide round-the-clock solar energy to about 100 homes.
The storage tanks at the project, able to store 312.5kg of hydrogen compressed at 300 bar, have already been filled, said Horizon Power.
"The next stage of the project is to test the integration of the hydrogen plant with the solar farm, battery and the conventional diesel power station to make sure these parts operate together as expected," the state-owned utility explained.
"The renewable energy generation is expected to offset 140,000 litres of diesel a year and provide a decarbonisation pathway for future energy systems in regional Western Australia, and throughout the rest of the country.
"With the remoteness of Horizon Power's networks, the rising cost of diesel and the predicted falling costs of hydrogen equipment, there may be an opportunity beyond 2025 to leverage hydrogen to decarbonise a number of existing diesel microgrids, as existing Power Purchase Agreements expire."
The Western Australia state government has provided A$5.7m ($3.8m) to the A$8.9m project, with A$2.6m provided by the Australian Renewable Energy Agency.
The project was officially opened on Friday by Western Australia's energy minister Bill Johnston and the state's minister for hydrogen industry, Alannah MacTiernan.