Germany will build 17-21GW of new hydrogen-ready gas-fired power plants, Chancellor Olaf Scholz said in a speech this morning, according to Reuters.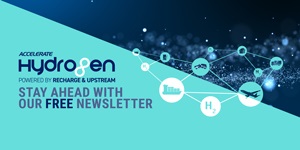 Hydrogen: hype, hope and the hard truths around its role in the energy transition
Will hydrogen be the skeleton key to unlock a carbon-neutral world? Subscribe to the weekly Hydrogen Insight newsletter and get the evidence-based market insight you need for this rapidly evolving global market
"We are not losing sight of the goal of decarbonization: in order to stabilise supply, we will build new gas-fired power plants which can be operated with hydrogen in the future," he told the VKU local utilities association.
The prepared text of the speech, seen by Reuters, said the capacity of these new facilities would amount to 17-21GW.
An internal Ministry for Economic Affairs and Climate Action document, seen by the Euractiv news website in January, stated that 17-21GW of new gas-fired capacity will need to be built by 2030-31 to provide back-up power during low wind and low sun periods. This would be the most cost-effective approach, the grid regulator, the Federal Network Agency told the government, according to the document.
Robert Habeck, the minister for economic affairs and climate action, who is also deputy chancellor, stated in February that the government would be auctioning a "huge number" of hydrogen-fired power plants and other back-up power capacity this year.
"We need a lot of power plant capacity that is not running continuously," he told an event organised by the German renewables industry association BEE, adding that the plants will be needed to provide power when wind and solar power were insufficient to meet demand.
"We have to act before the demand is there," he said.
Last week, the German government awarded €28.4m ($30m) to a consortium to build a hydrogen energy-storage pilot project in eastern Germany that will be used as a "real-world laboratory" for the future conversion of existing conventional power plants to run on excess renewable energy.
That facility will use excess wind and solar power to produce green hydrogen, and use that stored H2 to produce power when required by the grid — much like a gas-fired peaker plant.
The 17-21GW represents a massive increase in Germany's gas-fired power capacity, which amounted to 27.5GW in November last year.
Germany is planning to import huge amounts of green hydrogen in the coming years, and has already launched international tenders to import green ammonia, methanol and synthetic fuels made from renewable H2.