German utility RWE wants to build about 3GW of hydrogen-ready gas-fired power plants in Germany by the end of the decade, CEO Markus Krebber told the company's annual general meeting (AGM) on Thursday.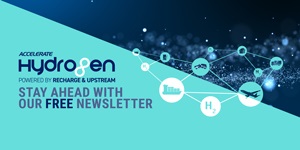 Hydrogen: hype, hope and the hard truths around its role in the energy transition
Will hydrogen be the skeleton key to unlock a carbon-neutral world? Subscribe to the weekly Hydrogen Insight newsletter and get the evidence-based market insight you need for this rapidly evolving global market
Krebber said that the facilities would be "mainly" bulit at RWE's existing coal-fired power stations in order to back up variable renewable energy, but that more clarity on the future supply of clean hydrogen, an H2 pipeline network and payments for flexible power plants would be required before any final investment decisions can be made.
RWE's aims align with comments made by German Chancellor Olaf Scholz in March, who said that Germany will need to build 17-21GW of new hydrogen-ready gas fired power plants by 2030-31 to provide back-up power during periods with low wind speeds and little or no sunshine.
The Germany government was told by the country's grid regulator, the Federal Network Agency, that this would be the most cost-effective approach to significantly reduce emissions in the power sector.
After pointing out that RWE had a renewables portfolio of more than 15GW, Krebber told the AGM: "Another aspect of our core business is to build up carbon-free back-up capacity for wind and solar plants, to make sure climate-neutral electricity is always available when it's needed.
"Gas-fired power stations will perform this function in the future."
He pointed to RWE's purchase of the 1.4GW Magnum gas-fired power plant in the Netherlands last year, saying it can run on a mix of 30% hydrogen and 70% fossil gas, and that a "full conversion to hydrogen by the end of the decade is possible".
"RWE is also in the starting blocks with regard to hydrogen-ready gas-fired power stations in Germany," Krebber said.
"By the end of the decade we want to build up capacity of about 3GW in this area, mainly at our coal-fired power station sites."
But he added: "Before locations can be selected and investment decisions made, however, we need clarity regarding a future hydrogen network and the remuneration framework for flexible backup capacities.
"In addition to the construction of the hydrogen infrastructure, the supply of sufficient carbon-free hydrogen is essential."
Krebber said that RWE wants to supply carbon-free hydrogen to Europe from Norway with its strategic partner Equinor, which aims to build a hydrogen pipeline between Norway and Germany.
"Blue hydrogen to being with, to be replaced with green hydrogen over time," he said.
In addition, "we want to generate green hydrogen ourselves", Krebber added.
"We have initiated the order for our first industrial electrolyser with a capacity of two times 100 megawatts [sic], and thus the largest in Germany, although the subsidy application is still sitting in Brussels, where it has been for the last 18 months."
With the company's investments in renewables and hydrogen, "we are putting the conditions in place for a successful phase-out of coal by the end of the decade", he said.