The sultanate of Oman has signed six agreements worth a total of $20bn with international developers to build green hydrogen production plants inside the country, in what appears to be the conclusion of the first round of bidding in Oman's green hydrogen auctions.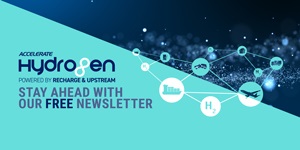 Hydrogen: hype, hope and the hard truths around its role in the energy transition
Will hydrogen be the skeleton key to unlock a carbon-neutral world? Subscribe to the weekly Hydrogen Insight newsletter and get the evidence-based market insight you need for this rapidly evolving global market
The six agreements of binding commercial terms will see the $20bn invested over seven years in projects that will aim to deliver a total of 15GW electrolyser capacity, on six land parcels in the al Wusta and Dhofar regions in southern Oman.
The agreements will last for 47 years, the government said, including seven years for development and construction, and 40 years of operation.
Oil giant BP is set to invest in two projects, in Dhofar and Duqm, which together will have renewables capacity of 3.3GW and produce 150,000 tonnes of hydrogen, while Intercontinental Energy also signed an agreement for its Oman Green Energy Hub, which hopes to ultimately expand to 14GW of electrolyser capacity.
An agreement was also signed with the developers of the 400MW Salalah green hydrogen and ammonia project, Omani oil company OQ, industrial gases company Linde and the Dubai Transport Company.
Two further agreements were signed with Hyport Duqm —a partnership between OQ, Germany's Uniper and Belgium's DEME, which aims to build a green hydrogen ammonia facility at Duqm powered by 2GW of renewable energy — and an organization called the Hydrogen and Green Chemicals Company, which Oman's government says has a plan to produce 38,000 tonnes of green H2 per year, powered by 1GW of electricity.
The six new agreements appear to conclude the country's first green hydrogen auctions, launched in November 2022.
As part of the auctions, the country last year offered up to six blocks of land for developers to build integrated hydrogen projects, including renewable power supply, electrolyser capacity and any associated
infrastructure required to process the hydrogen into another product, such as ammonia and methanol. Companies taking part in the green hydrogen bidding rounds were expected to bid as consortia, and then partner up with a government-owned entity after they have been awarded their plot of land.
Sun-drenched Oman has a goal of producing one million tonnes of green hydrogen and its derivatives by 2030.
The Arab peninsula enjoys high levels of solar irradiation — up to 2.1MWh per metre square in Oman — as well wind speeds of up to 9.7 metres per second on the coast. High capacity factors on renewable power feeds can push down the costs.