US utility Constellation Energy has put its giant $900m nuclear-powered (pink) hydrogen programme on hold while it waits for the Department of Energy (DOE) to decide whether to impose EU-style "additionality" rules on the country's flagship federal subsidy scheme — a proposal the company warns would permanently kill off any efforts to make pink H2 in the US.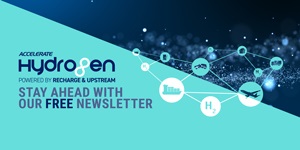 Hydrogen: hype, hope and the hard truths around its role in the energy transition
Will hydrogen be the skeleton key to unlock a carbon-neutral world? Subscribe to the weekly Hydrogen Insight newsletter and get the evidence-based market insight you need for this rapidly evolving global market
Constellation's chief executive officer Joe Dominguez told Bloomberg News that the lack of clarity has paralysed the company's efforts to introduce hydrogen production across its nuclear fleet in the Midwestern United States.
"The uncertainty around the regulations has brought us pretty much to a full stop," Dominguez said, warning that the proposed additionality rules would effectively put a stop to all pink hydrogen production in the US.
"There's no business case [for building a new reactor]," he told Bloomberg, pointing to the billions of dollars and many years required to build a new nuclear plant from scratch. "I'm frankly frustrated this issue has come up. It's crazy."
Under current rules, eligibility for the maximum $3/kg tax credit under the Inflation Reduction Act would be determined by a carbon intensity limit of 0.45kgCO2e/H2 produced, which both pink hydrogen and green hydrogen made with renewable energy would easily meet.
But US officials are now under pressure to introduce strict additionality criteria, similar those imposed by the EU on green H2 production, that would limit subsidies to plants that can prove they are using new capacity only — or those that can prove that grid-based power is matched to new capacity on an hourly, monthly or annual basis.
The fear is that the use of existing capacity for hydrogen production could reduce the amount available to supply power to the grid — a gap which would then be filled by polluting gas and coal-fired generation. In fact, a recent study found that using existing renewables infrastructure to supply green hydrogen projects in the US would result in up to five times higher greenhouse gas emissions.
The department is expected to rule on the matter in the coming months.
Billion-dollar programme
Constellation, which owns six nuclear power plants in Illinois, has given few specifics of its $900m pink hydrogen programme beyond the fact that it plans to use 250MW of its Midwestern nuclear capacity to produce 33,450 tonnes of H2 per year, which the option to expand to 400MW later on.
In March the company began producing hydrogen from a 1MW proton exchange membrane (PEM) electrolyser powered by its existing Nine Mile Point plant in New York state. H2 from the demonstration project — funded with the help of a $5.8m grant from the DOE — is used in the operation of the nuclear power plant.
Constellation also recently trialled a 38% blend of hydrogen at one of its gas-fired plants in the southern state of Alabama.
Dominguez's comments may well resonate with officials at the DOE, who are keen to encourage hydrogen projects using renewable energy, nuclear power and fossil gas with carbon capture and storage (blue hydrogen) — in fact the department's $8bn Hydrogen Hub programme will offer cash to at least one of each type.
Moreover, a recent report from French bank Lazard found that subsidised US-produced pink hydrogen could be made for under $0.50/kg, making it cheaper than grey H2.
Dominguez argued that additionality measures would jeopardise US climate targets, which envisage a need for at least 10 million tonnes of clean hydrogen (with a carbon intensity of less than 4kgCO2e/kgH2) to meet the country's demand for H2 in industry — currently met by polluting grey hydrogen made with unabated natural gas.
"If this doesn't get interpreted correctly, we're not going to have the hydrogen to meet the goal," Dominguez stressed.
The US's draft clean hydrogen strategy, announced in September 2022, targets annual production of 50 million tonnes of clean hydrogen by 2050, with interim targets of 10 million tonnes by 2030 and 20 million by 2040.