A consortium that includes the United Arab Emirates' (UAE) renewables developer Masdar has laid out plans for giant 10GW green hydrogen project in Mauritania that is expected to cost $34bn to build.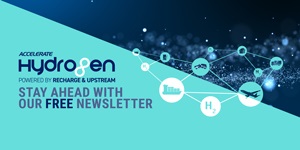 Hydrogen: hype, hope and the hard truths around its role in the energy transition
Will hydrogen be the skeleton key to unlock a carbon-neutral world? Subscribe to the weekly Hydrogen Insight newsletter and get the evidence-based market insight you need for this rapidly evolving global market
Infinity Power, which comprises Masdar, which is owned by the UAE's sovereign wealth fund, Egyptian renewables developer Infinity and Germany project developer Conjuncta, wants to build the plant northeast of the country's capital, Nouakchott, ultimately producing eight million tonnes of green hydrogen and its derivatives per year.
The project would be developed in four phases, with the first 400MW phase operational by 2028, Infinity Power said, adding that the renewable H2 would all be exported, either as hydrogen or hydrogen derivatives such as ammonia or methanol.
Much of the exports will be destined for Germany and will likely use German technology — however the group did not specify which equipment would be sourced from Germany.
"It will have a strong link to Germany both as a technology provider and a potential offtaker of green energy," said Stefan Liebling, CEO of Conjuncta. "It is by far the largest bilateral investment project ever and we look forward to making it a success story that will attract a lot more business activities between the two countries."
The group signed a memorandum of understanding (MoU) on the project with Mauritania's government today — however, this remains a tentative proposal with no hard cash committed.
But the scheme may be looking to benefit from Germany's flagship H2 Global scheme, which kicked off last year. The German government-backed programme offers international hydrogen producers subsidies to sell H2 into the European market, via a unique double auction scheme.
"Our country is determined to play a leading position on the global map of the green hydrogen economy in the coming decades," Mauritania's energy minister Abdessalam Mohamed Saleh, said. "We strongly believe that the development of the green hydrogen industry in Mauritania will bring environmental, economic and social benefits to our country and the world."
If the project is built, it could rank among one of the largest single projects in the world, behind Australia's Western Green Energy Hub (28GW), a 14GW project in Oman, as well as the 16-20GW Aman project in Mauritania. Chariot Energy has also proposed a 10GW green hydrogen project in Mauritania, which it is working on with French oil giant Total.
And last year BP, a major oil developer in the region, signed an MoU with the Mauritanian government to investigate green H2 potential.
UPDATED: plant will produce eight million tonnes of green hydrogen and derivatives per year