Hydrogen developer HH2E is planning to build a 1GW green H2 project in eastern Germany, at a cost of more than €1bn ($1.08), the second gigawatt-scaled electrolyser project announced by the company in seven months.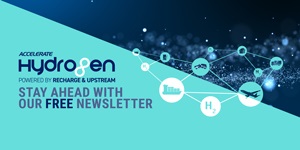 Hydrogen: hype, hope and the hard truths around its role in the energy transition
Will hydrogen be the skeleton key to unlock a carbon-neutral world? Subscribe to the weekly Hydrogen Insight newsletter and get the evidence-based market insight you need for this rapidly evolving global market
Set to be located in Borna, close to Leipzig in Saxony, the project forms part of HH2E's plan to develop 4GW of electrolyser capacity in Germany by 2030 — and the company hinted today at more projects to come.
But so far just 10% of the final Borna project is on track to be sanctioned by HH2E and the project's co-backers, UK infrastructure fund Foresight and H2 investors HydrogenOne, which have today (Thursday) announced a preliminary decision to invest €230m in the first phase of 100MW.
Final investment decision for phase one is slated for later this year, shortly before construction begins.
HH2E hopes to scale the Borna plant to over 1GW by 2030, a similar proposal to HH2 first major project, announced in June 2022: a 100MW green H2 plant in Lubmin on the German Baltic coast, which also has a planned scale-up capacity of more than 1GW.
HH2E's technology concept mixes an alkaline electrolyser with a battery, enabling a constant production of hydrogen without constant power supply. This set-up would help the Borna plant, which is designed to run on solar power sourced from the grid via a power purchase agreement, comply with the EU's expected additionality rules on sourcing power for green hydrogen production from the grid.
EU regulation on this is still yet to be determined, but a leaked draft of the rules in December suggested that producers would be expected to balance their grid-sourced power with electrolyser production on a quarterly basis.
Earlier this month, HH2E announced a deal to buy 120MW of electrolysers from Norwegian manufacturer Nel for around €30m, with a final purchase contract expected in February.
HH2E hopes the Borna plant will serve the mobility sector, chemical industry and commercial air and road transport operators.
Now, HH2E is gearing up, stating it has "a financing deal" – without revealing any further details – with two institutional investors to develop an additional three new sites in Germany. The company has already purchased new areas for new plants, a spokesman for HH2E told Hydrogen Insight.
"In addition to Borna and Lubmin, we have also identified 15 other ideal locations for green hydrogen production in Germany," said co-founder and board member of HH2E, Alexander Voigt. "Our growth potential is impressive, and we look forward to further exploring it together with our investors and partners."
Lubmin is close to the landing point of the now-defunct NordStream1 and 2 subsea fossil gas import pipelines, which were respectively sabotaged and mothballed following Russia's invasion of Ukraine in February 2022. Three of Germany's gas distributors are currently working on a proposal to convert some of the onshore gas pipelines originating from Lubmin, built to carry Russian gas imported on NordStream, over to H2.
A portfolio of similarly-designed plants will create synergies for HH2E, the company believes: "The technology-mix and design of these two plants, and those that will potentially follow, is similar and applies proven systems and components, thus reducing risk and implementation time," HH2E said in a statement.