Fortescue Future Industries (FFI) — the green hydrogen company owned by Australian iron-ore billionaire Andrew Forrest — has today announced plans to build the North Queensland Super Hub, a renewable H2 facility to be powered by more than 10GW of wind and solar power.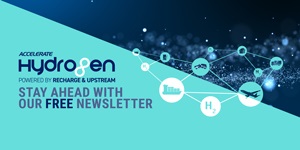 Hydrogen: hype, hope and the hard truths around its role in the energy transition
Will hydrogen be the skeleton key to unlock a carbon-neutral world? Subscribe to the weekly Hydrogen Insight newsletter and get the evidence-based market insight you need for this rapidly evolving global market
The project will be a partnership with renewables developer Windlab, which is partly owned by Forrest, with the first stage incorporating its under-development 800MW Prairie wind farm and a previously unknown 1GW Wongalee project.
Construction is due to begin in 2025, with first power in 2027. Energy generated from the project will be used to produce green hydrogen, and also feed clean electricity into the grid.
The project will be built around the town of Hughenden, Queensland, according to state premier Annastacia Palaszczuk, who gushed about the project at its launch in Townsville on Monday, calling it "an outstanding investment in Queensland's energy future".
Windlab already operates the 58MW Kennedy Energy Park — a wind/solar/battery hybrid project — near Hughenden.
FFI is also aiming to build a 2GW electrolyser gigafactory in Queensland, although FFI CEO Mark Hutchinson said in September that the company was already planning to make it bigger.
On Monday, Hutchinson described the North Queensland Super Hub as a "game-changer".
"Australia's natural resources, including its wind, sun and landmass, are unrivalled in terms of their potential for the production of green energy — green hydrogen in particular — and that is no truer than in the sunshine state," he said.
""For the first time, the North Queensland Super Hub will provide the quantity of renewable energy we need to support large-scale green hydrogen production right here in Queensland. The environmental and economic opportunities that can stem from this are significant, both in terms of lowering emissions and reducing reliance on fossil fuels, and in terms of local job creation."
Windlab CEO John Martin added: "The North Queensland Super Hub presents a high-yield, complementary wind and solar resource in a region ideally suited for multiple offtake opportunities, while being compatible with the existing land use."