In contrast to most nations with clean hydrogen ambitions, the vast majority of the UK's project pipeline is for blue H2 produced from fossil gas with carbon capture and storage (CCS), according to a new white paper from analyst Westwood Global Energy Group.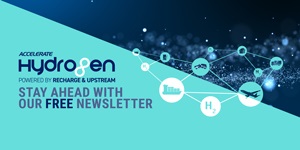 Hydrogen: hype, hope and the hard truths around its role in the energy transition
Will hydrogen be the skeleton key to unlock a carbon-neutral world? Subscribe to the weekly Hydrogen Insight newsletter and get the evidence-based market insight you need for this rapidly evolving global market
The 17-page document, entitled Hydrogen scale-up: what's priming the UK for success?, states that there are 45 clean H2 projects under development in Britain with a start-up date of 2030 or earlier, adding up to 17GW of capacity.
This is made up of 13 blue hydrogen projects, totalling 14.3GW — 84% of the total — with 32 green H2 projects accounting for 2.6GW.
However, the white paper points out that "to qualify for government support blue hydrogen projects need to come online by 2027, which means projects must take FID [final investment decision] in 2024".
And it adds: "Few are willing to assume the risk of a binding 'Take or Pay' contract that is usually required before FID takes place without further guarantees."
The UK is seeking to build 10GW of low-carbon H2 — both green and blue — by 2030, with two pots of cash being made available for developers. A planned Hydrogen Business Model will provide ongoing subsidies in the form of a Contracts for Difference mechanism, while the Net Zero Hydrogen Fund will provide £240m of grants to help with upfront costs.
But the Westwood document — written by the company's hydrogen director, Joyce Grigorey — points out seven "risks and uncertainties" that need to be addressed by the UK government before final investment decisions can be made (while stating that these are just "a few of the key ones").
The seven are:
Political uncertainty due to three different prime ministers in the past six months, and general fiscal instability.
Competition due to US hydrogen tax credits and the looming EU H2 subsidies.
Unfinalised definitions: countries are announcing different definitions for low-carbon and green hydrogen, despite a need for mutually agreed standards and certificates to allow cross-border trade.
Lack of clarity around future government support, with the timing and scope of future subsidy rounds.
Approval of business models, such as the terms for inclusion in the UK's planned subsidy scheme, known as the Hydrogen Business Model.
Timing of hydrogen and CCS business models — ie, the need for blue hydrogen and CCS projects to move together in unison. "Timing misalignments between the two business models makes reaching a final investment decision difficult," the paper explains.
Unfinalised demand views: the government has not decided on hydrogen's future roles in blending or heating, which "have the potential to significantly impact hydrogen demand".
The document continues: "Whilst risks and uncertainties abound, these can be mitigated to secure investment — strong, clear, streamlined and timely government policies will be key.
"At the same time, the incentives must permeate through all parts of an incredibly complex value chain.
"Competition is quickly heating up around the world and any delay or lack of clarity in the government's steer could have adverse consequences for the UK's hydrogen ambitions should investors believe they can obtain greater certainty and higher returns elsewhere."
Is blue hydrogen a good idea?
But should the UK be pursuing blue hydrogen projects at a time of constraints on the global natural-gas supply due to Russia's invastion of Ukraine, and the need for methane to heat British homes?
Westwood seems to think so.
"Although not carbon-neutral, blue hydrogen can scale faster relative to green because 1) grey hydrogen production technology is already well-established, as is carbon capture which is required for blue hydrogen production, although the latter has not been proven at scale; and 2) it is currently produced from refineries and, hence, there is an existing demand base and can benefit from large economies of scale. Blue hydrogen can, therefore, provide the UK with a route to decarbonisation in the short-to-medium term until green hydrogen is more readily available and cost-competitive."
The paper adds: "Natural gas is the feedstock for blue hydrogen production. The UK has access to abundant natural gas reserves in the North Sea – 240 oil and gas fields are in operation, supplying 40% of the UK's gas needs.
"The UK is highly dependent on natural gas use in critical applications such as power and heat for industry and homes; thus, not only is natural gas important for the UK's energy security but it also represents a significant opportunity for decarbonisation."