The Gulf state of Oman has today (Thursday) awarded three blocks of land for green hydrogen project development to consortia including oil majors and international investors.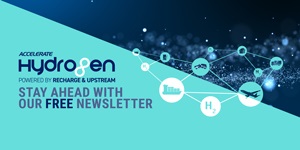 Hydrogen: hype, hope and the hard truths around its role in the energy transition
Will hydrogen be the skeleton key to unlock a carbon-neutral world? Subscribe to the weekly Hydrogen Insight newsletter and get the evidence-based market insight you need for this rapidly evolving global market
The winners of the land leases near the port of Duqm are:
BP, which aims to produce 150,000 tonnes of green hydrogen a year in the country, from 3.5GW of renewable energy
International consortium Green Energy Oman, which plans to produce 150,000 tonnes of green hydrogen annually from 4GW of wind and solar. It consists of Shell, which is the operating partner; green H2 developer InterContinental Energy, the Oman government-owned energy company OQ and Kuwaiti state-owned clean energy investor and developer EnerTech.
Internaional consortium Amnah, which aims to produce an initial 200,000 tonnes of green hydrogen annually — for use in planned green steel plants in Duqm — from 4.5GW of installed renewables. The consortium consists of Danish developers Copenhagen Infrastructure Partners and Blue Power. Partners, alongside Al Khadra Partners, part of the local Hind Bahwan Group, which is owned by the daughter of Omani billionaire Suhail Bahwan — a man who is facing an international arrest warrant from France for his alleged role in Carlos Ghosn's Renault-Nissan embezzlement scandal.
However, while the consortia have received land rights, it is still unclear whether there will be any additional regulatory hurdles to clear before construction can begin. And final investment decisions (FIDs) on projects is not guaranteed.
Green Energy Oman has previously suggested it would take FID after 2026, although it is unclear whether this refers to the full phase, which would produce ten million tonnes of green ammonia a year using 25GW of renewables, or any development at all.
The Omani government is due to grant another two or three winning bids for sites in the Dhofar region, in the country's south, at the end of this year.
BP and Green Energy Oman are both legacy applicants, which had been developing their projects prior to the launch of the site auction process.
Earlier this year, Oman's ministry of minerals and energy signed term sheets and 47-year commercial agreements with five of these legacy applicants/consortia, which also included India's ACME-owned Green Hydrogen and Chemicals SPC, the Omani-Belgian Hyport Duqm consortium and Marubeni-led SalalaH2. BP signed two commercial agreements — one for its Duqm project, and another in Dhofar.
Oman's minister of energy and minerals, Salim Al-Aufi, hinted at today's signing ceremony that further blocks of land around Duqm may be awarded "in a month or two" but are still undergoing negotiations.
Oman has set major targets for green hydrogen, with an ambition to produce 1-1.25 million tonnes of green hydrogen annually by 2030 — requiring 8-15GW of electrolysers and 16-30GW of renewables capacity to be installed in the next seven years.
To this end, the Gulf state has allocated 50,000sq km of land for green hydrogen projects and opened the auction process for the first few blocks late last year.
The amount of land leased to the three winning applicants today represent only 320sq km, according to local English-language newspaper Times of Oman.
At the signing ceremony, Al Aufi pledged to "continue maintaining the same spirit of support and collaboration" with companies seeking to build projects in the country, noting that even the bids for land rights represent "very courageous and bold decisions" due to uncertainty in the sector's future.
He also invited further industry consultation, noting that "our doors will be open and we will continue to listen, and if there is anything we can do to still support and change, with [what] we think will help the project, we are definitely going to do it".