Oil major BP expects higher returns from its clean hydrogen portfolio than its renewable energy investments in 2030, according to its annual report for 2022, which was unveiled this morning.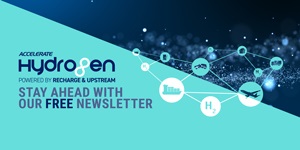 Hydrogen: hype, hope and the hard truths around its role in the energy transition
Will hydrogen be the skeleton key to unlock a carbon-neutral world? Subscribe to the weekly Hydrogen Insight newsletter and get the evidence-based market insight you need for this rapidly evolving global market
The UK company aims to make $2bn-3bn in earnings (before interest, taxes, depreciation and amortisation) from both portfolios at the end of the decade, but it is expecting "double digit" returns from hydrogen (ie, higher than 10%), compared to 6-8% for renewables.
A new target of producing 500,000-700,000 tonnes of clean hydrogen annually by 2030 was revealed in its annual report presentation — primarily green hydrogen made from renewable energy, but it is also looking at blue hydrogen produced from natural gas with carbon capture and storage (CCS).
BP said it "aims to build a leading position globally in hydrogen, initially supplying its own refineries, scaling up to meet growing customer demand and in parallel, as markets develop, developing global export hubs for hydrogen and its derivatives."
It also showed a map of its "key" hydrogen projects, which showed planned "global export hubs" in Spain, Australia, Egypt, Oman, Mauritania and Abu Dhabi.
The annual report made headlines around the world due to BP's massive increase in profits — $27.7bn in 2022, which was $12.8bn higher than in 2021 — and its expectation that it will produce more oil and gas for longer.
It had previously promised to reduce emissions by 35-40% by the end of this decade, but today the company declared that it was only targeting a 20-30% cut because it needed to keep investing in oil and gas to meet demand.
The International Energy Agency said last year that no new oil or gas fields can be developed if the world is to meet net-zero emissions by 2050.
BP's increased earnings — announced days after Shell revealed profits of $39.9bn in 2022 — have led to calls for increased windfall taxes on fossil-fuel companies.
UK trade union body, the TUC, said that families dealing with high inflation — largely the result of high fossil-fuel prices — and the associated cost-of-living crisis will "rightly feel furious – they are being treated like cash machines".
BP CEO Bernard Looney said: "We will increase our focus on the transition growth engines able to deliver nearer-term solutions — like EV chargers and sustainable aviation fuels — that can help people and businesses decarbonise sooner. And we will continue to build our hydrogen and renewables and power businesses for the longer term, based around projects where BP's integrated approach can create significant additional value."
These "transition growth engines" — bioenergy, convenience [stores] and EV charging, hydrogen and renewables & power — and oil & gas will each get $8bn extra capital under the group's latest strategy update.
In total, BP said it would spend 50% of its investments on these green sectors.