The European Commission today (Wednesday) unveiled plans to offer green hydrogen producers in Europe a "fixed premium" per kg — the first time the bloc has committed to subsidise domestic production in this way — as part of a massive package of temporary measures that aim to "level the playing field" with the US.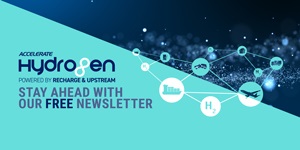 Hydrogen: hype, hope and the hard truths around its role in the energy transition
Will hydrogen be the skeleton key to unlock a carbon-neutral world? Subscribe to the weekly Hydrogen Insight newsletter and get the evidence-based market insight you need for this rapidly evolving global market
As part of the Green Deal Industrial Plan, launched today, the EU said it will carry out the first of a series of auctions this autumn for subsidies for green H2 production, with the winners offered a premium per kg of green hydrogen produced for ten years.
Around €800m ($872m) will be available for the first auction, which will be funded under the auspices of the EU's €38bn Innovation Fund. This and subsequent auctions will serve as a vehicle for the EU's Hydrogen Bank to allocate funds as part of its contracts-for-difference (CfD) scheme, which aims to close the price gap between grey hydrogen made with fossil gas, and green hydrogen made with renewable energy. Terms for the auction will be released in June.
The fixed-premium auction programme bears some resemblance to the production tax credit (PTC) for green H2 unveiled by President Joe Biden last summer as part of the US government's Inflation Reduction Act (IRA), which the EU has previously complained is "discriminatory".
However, access to the maximum PTC of $3/kg in the IRA is determined by the producer achieving a series of sustainability requirements, rather than via an auction.
"This will have a similar impact as the production tax credit in the US IRA, the difference being that the premium, based on the received bids, will make EU support cost-effective, fast and administratively light.," the EU said in its Green Deal Industrial Plan.
The EU is also considering extending the competitive bidding mechanism to directly subsidise other renewable energy technologies, including components for electrolyser manufacture. But Europe's electrolyser industry has not yet been granted its demand for "Made in Europe" local content stipulations for European hydrogen projects.
Green Industrial Plan
The Plan is more generally aimed at speeding up the expansion of renewable energy in Europe by easing state aid rules to enable member states to grant higher subsidies for green industries, including those related to green hydrogen.
Using new legislation — dubbed the Net-Zero Industry Act — the Commission intends to upgrade the bloc's regulatory framework for quick deployment, ensuring simplified and fast-track green project permitting, promoting European strategic projects and developing standards to support the scale-up of technologies across the EU.
This will be complemented by a Critical Raw Materials Act to secure access to raw materials or rare earths that are key for some renewable technologies, such as wind turbines or electric vehicles.
As a key second pillar of the plan, the Commission wants to speed up investment and financing for clean tech production in Europe, to avoid an exodus of green industries to other world regions like the US, which is helping manufacturing with generous tax breaks through the IRA.
European Commission President Ursula von der Leyen stressed that the EU welcomes the IRA in principle as it is a "must" in the fight against climate change, but is "looking at that we have a level playing field in global competition, as well as a level playing field within the single market".
To unlock the huge amounts of private financing needed for the green transition, the Commission therefore plans to make it easier for member states to grant necessary aid, and will consult them on what it labels a 'Temporary State aid Crisis and Transition Framework' as well as revise exemption regulation to state aid.
The new provisions would be in place until the end of 2025, von der Leyen proposed, stressed the new rules should be targeted and time limited.
EU member states will be asked to amend state aid rules to facilitate the roll-out of renewables by allowing (among other things) to grant aid for less mature technologies, such as renewable hydrogen without competitive bidding as long as certain safeguards are in place, incentivise investments leading to a significant reduction of emissions by including higher aid ceilings and simplified aid calculations.
Another element would be supporting investments in the production of strategic equipment necessary for the net-zero transition. The Commission proposes to allow member states to grant support for the production of batteries, solar panels, wind turbines, heat-pumps, electrolysers and carbon capture and storage (CCS).
Von der Leyen still wants to set up a new 'European sovereignty fund' by the summer to give incentives to produce in Europe or keep already established industries there. The fund aims at avoiding financially strong countries such as Germany using their deep pockets to grant aid to large-scale investments in strategic sectors that more wobbly countries, mostly in southern Europe, cannot match.
How the fund will be filled sufficiently is still unclear as Germany and other northern European members abhor the possibility of more common EU debt for it.
In a first step, von der Leyen suggested to re-channel some €250bn ($272bn) of already-existing money into the fund as a "bridging solution" until other instruments are found.
"If you have state aid, the other side of the coin is that there has to be funding at the EU level," she said, but added "we need a first step of funding now.
"This means we want to leverage the possibilities provided by REPowerEU, by InvestEU, and by the Innovation Fund."
REPowerEU had initially been proposed to rid the EU of its dependency of Russian energy imports, which has been reached faster than expected, von der Leyen said.
Now, part of those funds could be redirected to Europe's net zero industries, for example, by enabling countries to use the money from it for tax breaks.
EU member states at a February 9 meeting are to discuss the proposals of the Green Deal Industrial Plan. The Commission will use their input then to shape a more formal proposal to be presented at the European Council in late March.
UPDATED: to reflect that all auctions are part of the EU's Hydrogen Bank scheme
An earlier version of this article first appeared on Hydrogen Insight's sister title, Recharge.