The future of a giant 15GW green hydrogen project in Argentina hangs in the balance after a disagreement between the project developer, Australia's Fortescue Future Industries (FFI), which is owned by iron-ore billionaire Andrew Forrest, and the country's government over the terms of access to foreign currency.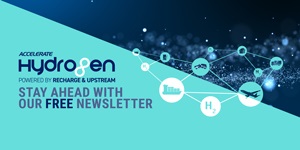 Hydrogen: hype, hope and the hard truths around its role in the energy transition
Will hydrogen be the skeleton key to unlock a carbon-neutral world? Subscribe to the weekly Hydrogen Insight newsletter and get the evidence-based market insight you need for this rapidly evolving global market
The $8.4bn Pampas project in windy northern Patagonia — the country's first renewable hydrogen project and the biggest in Latin America if it is commissioned as scheduled in 2024 — was welcomed enthusiastically by Argentina's government when it was announced at COP26 in 2021.
But speaking to the elDiarioAR website this week, Argentine president Alberto Fernández, said that there was a "problem" with the Pampas scheme because FFI has made some demands that the government would find difficult to fulfil, such as the creation of a "special dollar" that would give green hydrogen developers privileged exchange rates between the US dollar and the Argentine peso.
FFI declined to comment on whether it had made a specific request for a "special dollar" when asked by Hydrogen Insight, but acknowledged that it would require "free availability of foreign currency", among other factors, as a pre-condition for the project going ahead.
However, Argentina has reportedly already included free access to foreign currency in its draft hydrogen law, tabled by officials this month.
Argentina has had strict currency controls in place since 2019 to prevent the devaluation of the peso, which limit the amount of foreign currency companies and individuals are able to buy to pay for goods and services.
This applies to payments on goods imported into the country, as well as exports: if exporters are paid in foreign currency, they must convert it into pesos at an officially mandated exchange rate.
"We want the investment [in Pampas] to be made and we have confidence in that company," Fernández is quoted as saying, although he added that there was a "problem" with advancing the Pampas scheme. "Some of the proposals are difficult to fulfil under these conditions, for example, a special dollar like the one for soybeans. We are working to resolve these issues."
Fernández appears to be referencing the so-called "soy dollar", introduced this year to help Argentina's giant soybean export industry, which allows exporters to exchange their dollars for a higher number of pesos than would usually be allowed under the official exchange rate.
FFI tells Hydrogen Insight that the Pampas project, for which it is currently carrying out environmental, social and engineering studies, will not continue any further unless a number of key regulatory and fiscal benchmarks are met.
"To advance to the next stages of the project, it is essential to have a regulatory framework that defines the basis for the development of this industry in Argentina," it says.
"This framework should include the following aspects: access to financing at internationally competitive costs; free availability of foreign currency for the payment of debt and creditors abroad; a favourable tax regime; financial and fiscal stability; coexistence between the Hydrogen and Free Trade Zone Development Law and the expansion of the national electricity system."
At least some of these fiscal requirements are on course to be met. In fact, Argentina's draft hydrogen law includes "access to the free exchange market", energy secretary Flavia Royón told a conference in Rio Negro, Patagonia, last week — a statement which raises the question of why a "soy dollar" proposal is on the table.
The draft law also reportedly includes a number of significant tax breaks for hydrogen developers, including a provision for revenues from green and pink (nuclear) hydrogen projects to be collected tax-free for ten years, as well as an initial 3% tax rate on projects for blue H2 (made with fossil gas and carbon capture and storage).
"Among the various tax benefits contemplated, the following stand out: fiscal stability for 30 years, access to the free exchange market, accelerated amortisation of income tax, financial benefits, incremental and differentiated export duties according to each type of project," said Royón.
But FFI — which tells Hydrogen Insight it participated in the same Rio Negro conference with the aim of discussing many of these issues — has not flagged the Pampas project for a potential FID any time soon, despite pledging to move ahead with five financial closures on its green hydrogen portfolio by the end of the year.
Chief executive Mark Hutchinson has identified five geographies in which FFI is primed to commit significant funds to push these projects ahead. Argentina is not one of them, raising questions about whether the project is on the chopping block.
The company, which is funded with profits from Forrest's iron-ore business Fortescue Metals Group, is sitting on a $1bn cash mountain which it has not yet deployed.
However, FFI has come in for criticism for over-promising on projects without committing any funds, or revealing any economic details of its green hydrogen portfolio.