A new global commission aiming to speed up planning permission for green hydrogen and renewables projects has been launched at COP27 by some of the world's leading clean-energy organisations.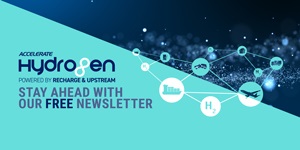 Hydrogen: hype, hope and the hard truths around its role in the energy transition
Will hydrogen be the skeleton key to unlock a carbon-neutral world? Subscribe to the weekly Hydrogen Insight newsletter and get the evidence-based market insight you need for this rapidly evolving global market
The Planning for Climate Commission — a joint initiative by the Green Hydrogen Organisation (GH2), the International Hydropower Association, the Global Wind Energy Council, the Global Solar Council and the Long Duration Energy Storage Council — says it "will agree a set of recommendations by mid-2023 and is expected to present its findings to the UN General Assembly in September 2023".
Planning permission is widely seen as one of the biggest obstacles to decarbonising the energy system, with projects sometimes taking many years to navigate Kafkaesque bureaucracy, such as in Italy, where a single wind farm requires 24 different permits from multiple authorities.
"Climate disaster will not be avoided without significantly more hydropower, significantly more solar and wind power, and electrolysers, ammonia plants and huge amounts of infrastructure. All of this will require approval by hosting governments and buy-in from communities," the new commission explained in a fact sheet.
"In many countries and jurisdictions, it takes too long to obtain approval. The need to transition from using fossil fuels is urgent. Sustainable development can only be achieved if these fossil fuels are replaced with renewable energy and green hydrogen.
"Studies by the International Energy Agency and many others repeatedly highlight streamlined and expeditious permitting and licensing of renewable energy and green hydrogen infrastructure as critical to the mission of avoiding climate disaster."
Last week, the European Commission proposed a new temporary emergency regulation to fast-track permitting for renewables projects, with a maximum of one month for authorities to approve non-ground-mounted solar facilities, and six months for the repowering of existing wind farms.
In June, UN Secretary-General Antonio Guterres, said it was necessary to "reform the bureaucracies and red tape that hold up gigawatts of renewables projects. We need fast-track approvals for solar and wind projects and more effort to modernise electricity grids".
In a press release, the Planning for Climate Commission explained: "10,800 gigawatts of installed renewables capacity will be needed by 2030 to keep 1.5°C within reach. Achieving production of the 100 million tonnes of green hydrogen needed to replace fossil hydrogen and decarbonise both food production and heavy industry by 2030 will require 800GW of renewable energy alone.
"The numbers are staggering and will only be achieved through a new, innovative and efficient approach to planning and approvals which ensures both speed and buy-in from communities."
Malcolm Turnbull, the former Australian prime minister and chairman of GH2, said: "The amount of renewables needed to move away from fossil fuels is on a scale never seen before, but we cannot fail. We need fit-for-purpose permitting processes which help rather than hinder the deployment of renewables and green hydrogen around the world."
Orsted CEO Mads Nipper added: "The world needs green energy — fast — to beat its fossil addiction. Yet, today it often takes longer to plan and permit a wind farm than to build it. In seeking ways to shorten the consenting processes for renewable energy, this commission is taking on a crucial challenge."
And Gianna Chianetta, the CEO of the Global Solar Council, said: "Collaboration of global renewables, energy storage, and green hydrogen industries is the basis for faster and more effective planning strategies of hybrid projects. Through this Commission, we aim to accelerate an exit strategy from fossil fuels and allow renewables to unlock international energy security while maintaining a stable focus on a just energy transition."