The global demand for hydrogen will increase by a factor of 3.3 by 2050, with growth coming from a wide range of sectors, led by power generation, aviation and heavy industry, according to a new report from S&P Global Commodities Insights.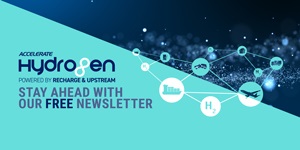 Hydrogen: hype, hope and the hard truths around its role in the energy transition
Will hydrogen be the skeleton key to unlock a carbon-neutral world? Subscribe to the weekly Hydrogen Insight newsletter and get the evidence-based market insight you need for this rapidly evolving global market
The study, Hydrogen Supply and Demand Outlook, 2020-2050: Growth Amid Constraints, says global H2 production will rise from 72.2 million tonnes (MT) in 2020 (and 77.6MT in 2022) to 251MT by mid-century.
Most of the demand growth will come from "new" energy sectors — led by aviation, power generation/energy storage and heavy industry (around 45-50MT each), but also including shipping, road transport and residential/commercial heat.
However, demand will also grow by 18% in the incumbent industries of chemicals (including fertiliser) and oil refining.
"Nearly all demand in 'new' energy sectors will be met by clean hydrogen to advance decarbonisation goals, and unabated production feeding incumbent sectors will continue to be phased out through the 2050s," says S&P.
It adds that 17% of the hydrogen (42.7 MT) would be traded across borders, mainly from areas with abundant wind and solar power, such as Australia, Chile, North Africa and the Middle East, to "carbon-conscious energy importers in the EU and East Asia".
The analyst forecasts that 67% of the H2 in 2050 would be green (with 16% (40MT) being blue (made from fossil fuels with capture and storage).
That does, however, leave 17% (42.7MT) being made from unabated gas or coal — not even a halving of today's grey H2 production.
S&P admits that its forecast is far more conservative than those published by other organisations, and that it is also pessimistic about the race to net-zero emissions.
According to the International Energy Agency, the world will need to produce 520MT of clean hydrogen annually by 2050 to reach net zero; Bloomberg NEF puts this figure at 500MT; the International Renewable Energy Agency forecasts 614MT in its 1.5°C scenario; while the Hydrogen Council expects 660MT to be produced by mid-century.
"Our view has only a small role for hydrogen in other energy sectors, including light-duty vehicles and low- and medium-temperature heat for buildings and industry. This outlook is therefore a conservative view compared to the sum of country and energy agency targets, says S&P.
"In addition to [high] production costs, hydrogen deployment will be constrained by the pace and scale of required investment and construction and, perhaps most importantly, competition with other low-carbon solutions like direct electrification through batteries or heat pumps."
But it adds: "If the global energy system shifts more toward 2050 net-zero targets, hydrogen will have a larger role to play."
In its forecast, S&P expects 32.5 billion tonnes of greenhouse gas emissions being released into the atmosphere in 2050 — only a 9% reduction from peak emissions in 2028.