Importing green hydrogen into Europe would be an economically attractive proposition by 2030, according to a new report from Aurora Energy Research.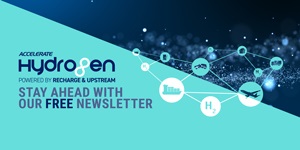 Hydrogen: hype, hope and the hard truths around its role in the energy transition
Will hydrogen be the skeleton key to unlock a carbon-neutral world? Subscribe to the weekly Hydrogen Insight newsletter and get the evidence-based market insight you need for this rapidly evolving global market
The UK-based analyst found that renewable H2 from Australia, Chile and Morocco would be cost-competitive in Europe with their domestically produced equivalent by 2030, when using Germany as a case study — even when pricing in the cost of transportation and converting ammonia back to H2.
But the cheapest option for Germany would be to import green hydrogen from Spain via pipeline, Aurora explains.
The levelised cost of green hydrogen made in Germany in 2030 — produced by electrolysers directly connected to renewable power plants — would range from €3.90 ($4.25) to €5 per kilogram, the analyst says.
By contrast, it would cost €3.10/kg to produce renewable hydrogen in sunny Spain, with an added €0.36/kg to transport it via pipeline to Germany — or €1.25/kg for shipping as liquid hydrogen, or €1.47/kg as ammonia.
Coincidentally, it was announced on Sunday that the proposed €2.5bn H2Med hydrogen pipeline between Spain and France, set to be completed by 2030, would be extended to Germany.
Several hydrogen import terminals are also being planned for northwest Germany, in order to accept shipments from around the world, while the country has recently launched tenders to import H2 in the form of ammonia, methanol and synthetic aviation fuel from outside the EU.
The levelised cost of renewable H2 would also be lower in Australia (€3.10/kg), Chile (also €3.10), Morocco (€3.20) and the United Arab Emirates (€3.60), due to superior solar resources.
This is because "co-locating an electrolyser with a combination of solar and onshore wind generation results in the lowest production costs", Aurora explains.
When adding in transport and conversion costs, importing liquefied green hydrogen from Morocco would be the most competitive option from outside the EU in 2030, at an expected cost of €4.58/kg.
Importing this H2 from Morocco in the form of ammonia or liquid organic hydrogen carrier (LOHC) would increase the costs slightly, to €4.72/kg and €4.68/kg, respectively.
Imports from Australia and Chile would only be cost-competitive when shipped as ammonia, costing €4.84/kg and €4.86/kg, respectively.
However, importing renewable H2 from the UAE would not be a competitive option, with hydrogen shipped as ammonia — the cheapest transportation method in this case — coming in at €5.36/kg.
If a hydrogen pipeline were to build between Morocco and Germany by 2030, green H2 from the North African nation could be delivered at a cost of €3.72/kg.
While some observers have expressed scepticism that renewable hydrogen imported into Europe would be affordable, the EU plans to import 10 million tonnes of it from outside the bloc by 2030, with a further 10 million tonnes produced domestically.
"The global momentum behind the hydrogen industry shows no signs of slowing in 2023 — export project announcements are coming thick and fast," said Aurora's head of hydrogen research, Anise Ganbold. "Our analysis provides a fact check to this and finds that importing hydrogen into Europe even over long distances makes economic sense given the much lower cost of renewable energy in markets such as Morocco and Australia."
Senior associate Dilara Caglayan added: "Hydrogen is going to be a global commodity. Once the infrastructure is available, pipelines will unleash the cheapest hydrogen import routes to Europe.
"However, even imports of hydrogen by ship — more expensive than pipelines — will be economically competitive with domestic production."