Green hydrogen and e-fuel production will be pivotal to the realisation of ambitious goals set by nations bordering the North Sea to have over 250GW of offshore wind plant operational by mid-century, according to a new report from Aegir Insights.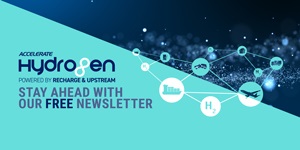 Hydrogen: hype, hope and the hard truths around its role in the energy transition
Will hydrogen be the skeleton key to unlock a carbon-neutral world? Subscribe to the weekly Hydrogen Insight newsletter and get the evidence-based market insight you need for this rapidly evolving global market
Reliance on markets for green H2 and its derivatives — e-fuels such as green ammonia and e-methanol —will come as result of vast offshore wind capacity outstripping projected electricity demand in these countries, as well as the wider low-carbon industrial transformation underway, the Denmark-headquartered research house said.
Aegir found that with such massive volumes of offshore wind being brought online off the UK, Belgium, Denmark, Germany, the Netherlands and Norway in the coming decades, so-called 'power-to-X' (PtX) projects will "provide a route with potential for very large offtake", especially given the leading role PtX is foreseen playing in the decarbonisation of hard-to-abate industrial sectors.
"The North Sea… region is home to the most mature offshore wind markets that have decades of experience as well as mature port infrastructure and supply chain for offshore wind. However, there is still plenty more to come as the six countries have combined offshore wind targets of 121GW by 2030, 190GW by 2040, and 261GW by 2050," it said.
"[But as] the targeted offshore wind build-out exceeds the electricity demand in the six countries and new routes-to-market are needed to offtae the significant volumes of renewable electricity… PtX provides a route with potential for very large offtake.
"Furthermore, the scale of offshore wind [plants] makes it a great source of the large volumes of renewable electricity needed for future hydrogen production… which can support the integration of offshore wind power and reduce pressure on the electricity transmission infrastructure."
Aegir underlined that with hundreds of gigawatts of new wind power production set to start flowing to shore from the North Sea in the next two decades, "there is a need to rethink and redesign offshore electricity infrastructure".
"The offtake options for offshore wind projects will change going forward as subsidies are phased out, offshore wind volumes increase, and new routes-to-market emerge," said the analyst.
More broadly, Aegir noted, the EU framework for production and consumption of hydrogen and e-fuels is now taking shape, with 2023 set to be "a defining year".
"Several pieces of key EU legislation are being finalised to set the regulatory framework, and support schemes are in place or being established at both EU and national level. Simultaneously, TSOs [transmission system operators], which are planning how a future hydrogen grid can connect European markets to allow for trade and balancing of production and consumption, are looking into new concepts with visions for hybrid interconnectors and energy islands."
"The market developments and future opportunities are characterised by increased integration of renewable energy forms and connections across markets," said Aegir.
North Sea littoral nations currently have close to 60GW of offshore wind plant installed or under construction and auctions totaling over 70GW planned through to the end of the decade, with tenders in 2023 alone that will award over 25GW to developers.
"The gaps to meeting [these countries'] 2030 targets are getting smaller," said Aegir, spotlighting the UK having almost 22GW in offshore wind plant producing or in-development, 7GW with secured contracts for difference (CfDs), and around 50GW of leased projects "working on securing" a route-to-market.
The analyst also noted Denmark will nearly have reached its 2030 target of 13.9GW after auctions in 2023 allocate 9GW, while Belgium was "almost halfway" to its 2030 target of 5.8GW, with future auctions planned for 2024 and 2026-2028.
The Netherlands, meanwhile, needs another 14GW to meet its end-of-decade goal of 21GW, having put in place a pipeline of auctions starting with 4GW in 2023.
Germany, has slated two auctions totalling 8.8GW this year, and annual tenders planned until 2030, to get to its objective of 30GW. And Norway is "starting the journey" towards 30GW by 2040 with a pair of auctions in 2023 totaling 3GW launched last month.
Aegir outlined that thought all six countries have hydrogen and PtX strategies, with combined targets of 20GW of green H2 by 2030, the countries' "ambitions and plans differ".
"Germany will be a significant hydrogen consumer and will produce what is possible domestically but is bound to become an importer from both neighbouring countries and global markets. Denmark and the Netherlands will exploit their renewables sources to become hydrogen producers.
"[And] Norway and the UK are focusing of production of low-carbon, blue hydrogen, while the UK strategy also sets targets for renewable hydrogen."
For the UK and Norway, offshore wind could do double-duty by being channeled into green H2 production while also being wired into existing North Sea oil & gas complexes to reduce emissions during operation, such as it being piloted at the Snorre-Gullfaks fileld where the Hywind Tampen floating wind array is now meeting one-third of power demand.
"The [Norwegian] government sees investment in offshore wind as the key to the electrification of the Norwegian continental shelf... and the UK [has] targets for reduction of emissions from offshore oil & gas activities through supply decarbonisation including electrification [of] 50% by 2030 and 100% by 2050," said Aegir, spotlighting the recent INTOG (Innovation and Targeted Oil & Gas) offshore wind lease auction awards dedicated to floating wind-powered oil & gas projects.
This story originally appeared in Hydrogen Insight's sister title, Recharge.