Green hydrogen projects in Asia and Australia — but not China — are stalling because the developers have opted to export green ammonia rather than focus on meeting domestic H2 needs, according to a senior analyst at Norwegian research house Rystad Energy.
Stay ahead on hydrogen with our free newsletter
Keep up with the latest developments in the international hydrogen industry with the free Accelerate Hydrogen newsletter. Sign up now for an unbiased, clear-sighted view of the fast-growing hydrogen sector.
Minh Khoi Le, global head of hydrogen, told the H2 Meet conference in Seoul on Wednesday that almost all projects outside of China are still at the concept stage, despite a huge swathe of announcements in Australia, India and southeast and central Asia.
Nearly half of the capacity of major green hydrogen projects mooted to come on line in the region by 2030 will be export-focused, while by 2050 this figure would be closer to three quarters.
According to Le, this is due to the increased financial pressures on export projects to achieve greater economies of scale — due to the added cost of transporting the H2 — and to secure solid offtakers.
"To export, you not only need the credible off-taker for perhaps a bit longer contract, you need to scale up the infrastructure, you need to scale up the technology," he told the Seoul conference. "So there are a lot more challenges for export projects as well."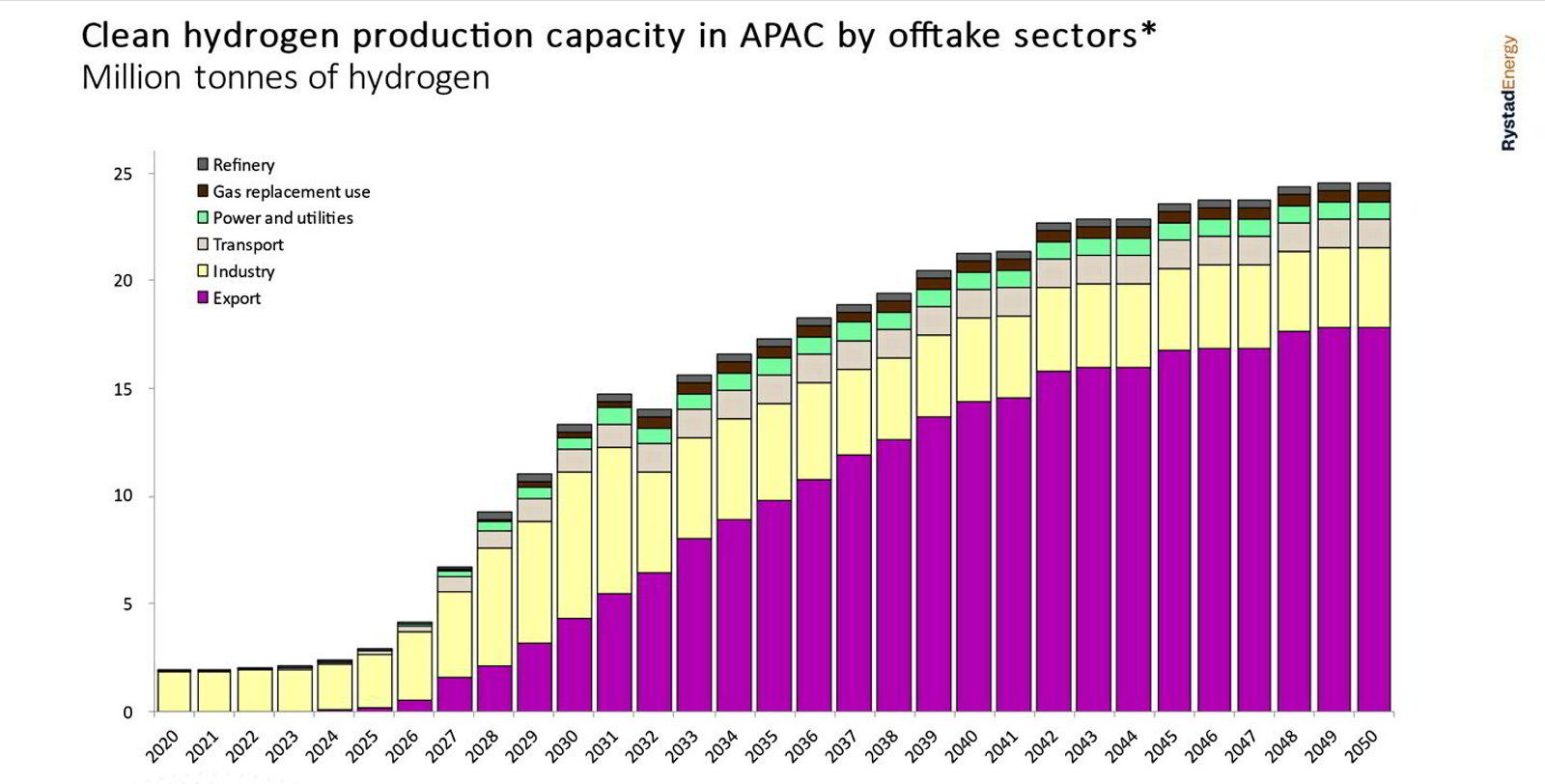 He added: "That's why the pipeline in Asia across the board is not actually advancing because everyone is planning to export [instead of] using it domestically."
"This [shows] that most of the countries in Asia, although they have climate goals, aren't really putting their foot forward in terms of decarbonising their own [economies]."
Many developers are looking to grab a slice of the premium international market for green hydrogen and its derivatives, by exporting to high-paying regions such as Europe, Japan or South Korea, rather than focusing on less lucrative domestic decarbonisation projects.
Transporting H2 and derivatives such as ammonia around the world is energy intensive and obviously adds considerable cost, while currently requiring ships that burn one of the most polluting forms of fossil fuel, bunker oil.
"The challenge for export projects is that they are normally much larger to enjoy economy of scale as well as to absorb costs related to infrastructures," Le explains. "That is also another challenge, hydrogen as you know if hard to transport and the jury is still out for best carriers, even though things point more towards ammonia."
And producers are trapped in a further pricing conundrum, with offtakers reluctant to make long-term commitments to early-stage projects in case they get locked in to a more expensive price.
"The headache for offtakers is they are afraid of overpaying now with expectation of cost reduction of hydrogen in the future," Le told Hydrogen Insight.
Le said he couldn't comment on the expectations offtakers would have of contract length at present, but pointed out that many international subsidy regime contracts are set to last about ten years, which would have a bearing on contracts currently being negotiated.