Green hydrogen and ammonia projects commissioned in India from today until 2030 will now qualify for a 25-year waiver on all inter-state transmission fees, after the government this week formally extended the flagship programme for another four-and-a-half years.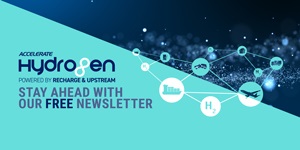 Hydrogen: hype, hope and the hard truths around its role in the energy transition
Will hydrogen be the skeleton key to unlock a carbon-neutral world? Subscribe to the weekly Hydrogen Insight newsletter and get the evidence-based market insight you need for this rapidly evolving global market
But analysts believe the move will only knock up to $0.40/kg off the cost of green H2 production — far below the level needed to achieve India's goal of making green hydrogen cost competitive with grey H2 made with unabated fossil gas by the latter half of this decade.
The waiver on fees associated with using the inter-state transmission system (ISTS) had been expected to end for projects commissioned after 30 June 2025, but ministry of power officials have extended it to bring the policy in line with its National Green Hydrogen Mission strategy, published earlier this year, which is gunning for cost parity between green and grey hydrogen.
As part of the revised waiver policy, projects commissioned from the beginning of 2031 will also receive a reduced rate of transmission fees that increases every year up to 2034, when they will be fully charged.
The revised waiver policy could be a boost for projects struggling to complete construction by the original deadline — and bring about a production cost discount.
Indian credit rating agency ICRA estimated in March last year that 'base-case' cost of green hydrogen production in the country—which would include transmission-related fees—would be $5.50-6/kg.
At the time of the waiver's original introduction last year, some commentators claimed it would lead to cost of production below $2/kg over the next five or six years, but now the ICRA is more bearish on the achievable cost reductions for green H2.
"The benefit of the transmission cost waiver is likely to be in the range of $0.35-0.40/kg [for] green hydrogen," ICRA's group head of corporate rating Sabyasachi Majumdar told Hydrogen Insight.
He added: "More importantly, for the cost of green hydrogen to become competitive in relation to the grey hydrogen, the capital cost of electrolysers must come down along with the reduction in cost of sourcing renewable energy on a round-the-clock basis."
And if the economics are not in favour of switching from grey to green hydrogen, a government push for industry to use it could come back on the table.
India's government previously floated mandates for refining, fertilisers, cement, and steel to switch to green H2 — a policy it then reneged on due to the rising cost of grey hydrogen on account of sky-high fossil gas prices.
And while the government will provide subsidies for producers in an imminent auction in June, these are only reported to cover around 30 rupees ($0.36) per kilogram, with 50 rupees/kg offered in the first two years—a fraction of what is on offer in the EU and the US.
It is also unlikely to cover the cost gap between green and grey H2.
India will tender funding for 3GW of electrolyser manufacturing capacity for five years, although few details have been released on how much OEMs can expect to receive—and therefore how far equipment prices can be expected to fall.