One of the world's largest green hydrogen projects has taken a major step towards commercialisation after developer Svevind signed an investment agreement with the Kazakh government late last week.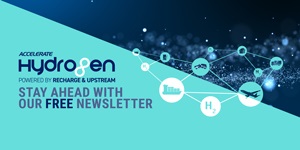 Hydrogen: hype, hope and the hard truths around its role in the energy transition
Will hydrogen be the skeleton key to unlock a carbon-neutral world? Subscribe to the weekly Hydrogen Insight newsletter and get the evidence-based market insight you need for this rapidly evolving global market
Under the deal — which was signed in the presence of European Council president Charles Michel and President Kassym-Jomart Tokayev at the presidential palace in Astana — the parameters of the 20GW Hyrasia One project were agreed, including the land to be made available, access to infrastructure, the "unhindered movement of goods and capital" and other economic and legal conditions.
The $40-50bn project — which would produce up to two million tonnes of green hydrogen annually — would be powered by about 40GW of wind and solar "installed in the vast steppes of southwest Kazakhstan", making it potentially the largest renewables project in the world upon completion in 2032.
The agreement means that Hyrasia One — also the name of the Svevind subsidiary developing the project — "can now press ahead with concrete negotiations with co-investors, customers and plant suppliers, and thus lay the foundations for the subsequent marketing of the green hydrogen", it said in a press release.
A final investment decision "will be made in 2026", the statement added.
"Kazakhstan is an ideal location for clean energy and green hydrogen production," said Wolfgang Kropp, managing director of Hyrasia One and CEO of Svevind. "The vast steppes have excellent year-round wind conditions and solar irradiance is far more intense than in Central Europe, for example."
Michel's presence at the signing in the Kazakh capital, Astana, hints at the importance of the project to the EU, which is aiming to import ten million tonnes of green hydrogen by 2030 and also seeking to pull the former Soviet state away from Russia's political orbit.
Michel and President Tokayev separately agreed to "further strengthen, deepen and expand the Kazakh-EU multifaceted cooperation in the years ahead", according to a European Council statement. This includes cooperation in "sustainable raw materials, batteries and renewable value chains".
Due to Kazakhstan's lack of access to open seas and the roughly 2,000km distance from mainland Europe (as the crow flies), exporting hydrogen to the EU would almost certainly require the construction of a pipeline, with the alternatives being hydrogen tanks loaded onto trains or trucks. A pipeline would probably have to traverse both the Caspian and Black Seas, and parts of Azerbaijan and Georgia to reach the EU.
The economy of Kazakhstan — a presidential republic without free and fair elections — currently relies heavily on export of fossil fuels, and the country has been among the 10 biggest coal and crude oil exporters globally, while at the same time committing to achieving carbon neutrality by 2060.