A giant fossil-gas pipeline built to carry Russian gas from the now-defunct NordStream 2 (NS2) import pipe could be converted to carry hydrogen instead, as part of a new pan-European H2 network plan cooked up by three German gas distributors.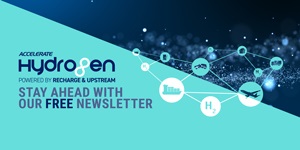 Hydrogen: hype, hope and the hard truths around its role in the energy transition
Will hydrogen be the skeleton key to unlock a carbon-neutral world? Subscribe to the weekly Hydrogen Insight newsletter and get the evidence-based market insight you need for this rapidly evolving global market
Gascade, Ontras and Terranets want to create a 1,100km "hydrogen corridor" of pipes capable of carrying up to 20GW of H2, running the north-south length of Germany by 2030, with some parts in operation as soon as 2025, in a project it has dubbed "Flow: Making Hydrogen Happen".
Most of this will be achieved by converting sections of their respective German gas networks, with some new additions — although it is not clear whether the partners have firm plans to transport H2, or whether they simply intend to make the network "hydrogen-ready".
And one of the pipelines reportedly in the mix for conversion during the first phase is Gascade's enormous European Gas Pipeline Link (EUGAL) — a high-pressure 480km transmission pipeline built less than three years ago to carry Russian gas from the NordStream landing point at Lubmin, on Germany's Baltic coast, to southern Germany.
NS2, completed in 2021, was mothballed before it ever came onstream due to Moscow's invasion of Ukraine. Nevertheless, EUGAL was running at full capacity in April 2021, carrying gas from NordStream 1 (NS1). However Russia ceased filling NS1 this year, and it has since been severely damaged in a suspected sabotage attack — raising the possibility that EUGAL could have enough spare capacity to warrant conversion to hydrogen.
In fact, gas distribution companies have been working hard throughout Europe to promote hydrogen, which some view as a carefully calibrated strategy to prevent their assets falling into disuse as the continent decarbonises.
Maps of the proposed H2 corridor, correspond with some of EUGAL's route along Germany's eastern flank, along with that of the parallel Ostsee-Pipeline-Anbindungsleitung (OPAL) pipeline that was built to carry NS1 gas.
OPAL is owned by Gascade's parent company Wiga Transport, a collaboration between German oil firm Wintershall and, until recently, Russian gas giant Gazprom, which ditched the company this year when it was sanctioned by the EU.
Dirk Flandrich, Gascade's senior hydrogen project manager, told German journalists that the project could utilise around half the length of OPAL or EUGAL as soon as 2025.
"We have not yet made a final decision on which section this will be," he told German news site Energate, pointing out that both pipelines are still needed to ship fossil gas.
Both OPAL and EUGAL have twin sets of parallel pipes which means that in principle one pipe could carry H2 with the other carrying gas.
None of the three distributors, including EUGAL owner Gascade, had responded to questions from Hydrogen Insight at the time of publication.
The first segment of the trio's plan, to be completed by 2025, would run from Mechlenburg-Western Pomerania's Baltic coastline to Thuringa, southwest of Leipzig. The partners then intend to convert more pipes in Hesse and Rhineland-Palatinate in Germany's far southwest by 2028, before turning east to continue into Baden-Württemberg and Bavaria by 2030.
A link will also be added to the Danish island of Bornholm in 2027, with plans to later further extend the H2 corridor west to France and east to Austria, the Czech Republic and Poland.
UPDATED: to include details of Gascade and OPAL's parent company, Wiga Transport.