The 2.2GW Neom green hydrogen project planned in the desert of northwest Saudi Arabia has become the first gigawatt-scale renewable H2 scheme to secure the financing it needs to begin construction, with $8.5bn lined up from two government funds and a consortium of 21 financial institutions.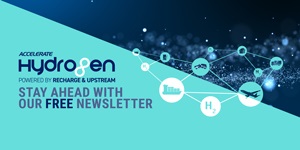 Hydrogen: hype, hope and the hard truths around its role in the energy transition
Will hydrogen be the skeleton key to unlock a carbon-neutral world? Subscribe to the weekly Hydrogen Insight newsletter and get the evidence-based market insight you need for this rapidly evolving global market
According to a filing on Saudi Arabia's Tadawul stock exchange, the Saudi government will provide $2.75bn through its National Development Fund and Saudi Industrial Development Fund, with a further $6.33bn from sources including HSBC, JP Morgan, BNP Paribas, Credit Agricole, Mitsubishi UFJ Financial Group and the Korea Development Bank.
Confusingly, this actually adds up to more than $9bn, despite the filing's headline figure of $8.5bn — which is the total budget for the project.
A total of 4.6GW of wind and solar power will provide the green electricity to the 2.2GW of electrolysers, which are due to be supplied by Thyssenkrupp Nucera under a December 2021 agreement.
About 600 tonnes of green hydrogen will be produced every day, all of which will be converted into liquid ammonia on site and sold to US industrial gases company Air Products, which plans to export it around the world.
Air Products owns 33.3% of the joint-venture project developer, Neom Green Hydrogen Company, with equal shares also being held by Saudi renewables developer ACWA Power and the state-owned Neom Company, which is building the controversial 170km-long linear city of the same name.
"Securing project financing at this scale for this very first at-scale green hydrogen project is very significant," said ACWA Power in its annual statement, which was published today.
"It could not have happened without the commitment from the partners and the trust of the investment community in our endeavour to lead the world in its transition to a carbon-free future."