Spanish oil company Cepsa has revealed plans to invest €3bn ($3.1bn) in a 2GW green hydrogen project in Andalucía, southern Spain — the largest in Europe, according to the company.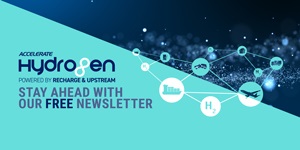 Hydrogen: hype, hope and the hard truths around its role in the energy transition
Will hydrogen be the skeleton key to unlock a carbon-neutral world? Subscribe to the weekly Hydrogen Insight newsletter and get the evidence-based market insight you need for this rapidly evolving global market
The Andalusian Green Hydrogen Valley project would consist of two 1GW electrolysers — one in the port city of Algeciras, in the Campo de Gibraltar region, and the other in Huelva, 270km away — producing 300,000 tonnes of green hydrogen per year.
Cepsa CEO Maarten Wetselaar said that a further €2bn would be invested in renewable energy projects to power the electrolysers, according to Reuters.
Cepsa had previously announced its intention to have 2GW of green hydrogen production capacity in place by 2030, powered by 7GW of new wind and solar farms.
And in October, Cepsa signed a memorandum of understanding with the Port of Rotterdam to ship green hydrogen from Algeciras, where the Spanish company has a refinery, to Europe's largest port. At the time, Cepsa also announced its intention to develop a similar supply chain from Huelva to Rotterdam.
Wetselaar, who was head of gas and renewables at Shell until the end of last year, said the project will help Spain become "an energy powerhouse with capacity to export to the rest of the world and guarantee Europe's energy independence", Reuters reports.
He added in a statement: "The Andalusian Green Hydrogen Valley is a groundbreaking project whose 2GW capacity is 10 times bigger than the largest under construction in Europe today. The project produces green hydrogen at scale that can decarbonize industry, aviation, and heavy road and maritime transport in Europe for Europe."
Spanish Prime Minister Pedro Sanchez added: "This investment will help Spain achieve its goal to become an energy exporting country, with the first European green hydrogen corridor between the Campo de Gibraltar and the Dutch Port of Rotterdam. Andalusia has everything it takes to become one of the most competitive regions in the world for hydrogen production."
This article was updated with information and quotes from a Cepsa press release.