Oman has launched its first green hydrogen auction in an effort to reach its goal of producing one million tonnes of hydrogen and its derivatives by 2030.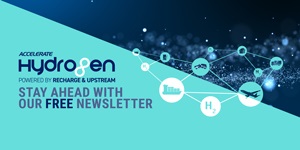 Hydrogen: hype, hope and the hard truths around its role in the energy transition
Will hydrogen be the skeleton key to unlock a carbon-neutral world? Subscribe to the weekly Hydrogen Insight newsletter and get the evidence-based market insight you need for this rapidly evolving global market
Launched yesterday (Sunday) the tenders will see the sultanate offer up to six plots of land on which it wants developers to build fully integrated green hydrogen projects —including renewable power supply, electrolyser capacity and any associated infrastructure required to process the hydrogen into another product, such as ammonia and methanol.
Successful bidders will also be expected to secure their own offtakers for their project, which must be developed to deliver at a "competitive" levelised cost of hydrogen (LCOH).
This may not be the tall order it could be elsewhere the world. The Arab peninsula enjoys high levels of solar irradiation — up to 2.1MWh per metre square in Oman — as well wind speeds of up to 9.7 metres per second on the coast. High capacity factors on renewable power feeds means, electrolysers can too, pushing down the LCOH.
Developers behind the green hydrogen project planned as part of the NEOM development in neighbouring Saudi Arabia have been able to secure US industrial gas specialist Air Products a partner and an offtaker for the project's output, without subsidies.
Oil-rich Oman recently announced a plan to become net zero by 2050, and, like Saudi Arabia, is currently looking to diversify its economy away from fossil fuels
Hydrogen strategy
Companies taking part in the green hydrogen bidding rounds will be expected to bid as consortia, and then partner up with a government-owned entity after they have been awarded their plot of land, the state-owned company managing the auctions Hydrogen Oman (Hydrom), said.
The deadline for submissions for the first round in Duqm will be January 2023, with the winners announced in March.
A further two to four blocks in the coastal city of Salalah will be put on offer in May 2023, with the winners announced in December.
Hydrom was launched in late October, at the same time as Oman's national hydrogen strategy which set a green hydrogen production target of up to 1.23 million tonnes per year by 2030. By 2040 it hopes to be producing up to 3.75 million tonnes per year, rising to 8.5 million tonnes by 2050. In total it will need around $140bn in investment — much of it foreign —to meet these targets, it says.
Oman hopes to use the H2 to cover domestic demand, as well as exporting hydrogen and its derivatives to Europe and Asia.
The sultanate previously estimated that it could produce up to 1GW of green and blue hydrogen (made with fossil gas and carbon capture and storage) by 2025, and 30GW by 2040, but it does not appear to have set any blue hydrogen targets.