A Canadian-Portuguese joint venture says it will invest more than €1bn ($1.03bn) in a 500MW-plus green hydrogen and green fuels facility at the Portuguese port of Sines — the third to be announced at the location in the past 12 months.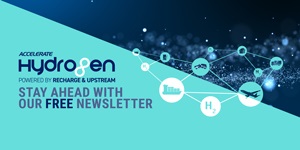 Hydrogen: hype, hope and the hard truths around its role in the energy transition
Will hydrogen be the skeleton key to unlock a carbon-neutral world? Subscribe to the weekly Hydrogen Insight newsletter and get the evidence-based market insight you need for this rapidly evolving global market
A similar-sized project was announced in April by Danish fund manager and offshore wind developer Copenhagen Infrastructure Partners (CIP), Portuguese developer Madoqua Renewables and Dutch consultancy Power2X, which also is planning to use 500MW of electrolysers at Sines and invest a total of €1bn, to produce an annual 50,000 tonnes of green hydrogen and 500,000 tonnes of green ammonia.
An area of 10.5 hectares has been formally reserved at Sines by NeoGreen Portugal, a joint venture between Canadian hydrogen producer NeoGreen and its Portuguese solar-energy partner Frequent Summer.
Further details, such as the estimated amounts of green hydrogen or its derivative fuels, or where the renewable energy would come from, have not been revealed.
A third, 100MW green hydrogen project at the Port of Sines, was announced last December by a group including renewables developer EDPR, turbine maker Vestas, French utility Engie and Portuguese oil company Galp, with plans to begin construction in 2023.
Sines is the closest deepwater port in Europe to the US, and Portugal's prime minister António Costa has been campaigning for the site to receive liquified natural gas from the US and distribute it to northern Europe. Even before the war in Ukraine, the US had identified the Sines' gas terminal as a strategically important gateway for energy imports to Europe, according to The New York Times.
Portugal and Spain are expected to be able to produce green hydrogen more cheaply than other parts of Europe due to their high solar irradiation and relatively strong winds.
According to Portugal's national hydrogen strategy from 2020, the country is planning industrial green hydrogen production facility of at least 1GW by 2030, positioning Sines and and Portugal as "an important hub of green hydrogen".