Danish renewables developer GreenGo Energy has unveiled an €8bn project to produce more than a million tonnes of "green fuels" using 2GW of green hydrogen powered by 4GW of on- and offshore wind and solar energy.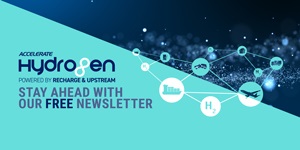 Hydrogen: hype, hope and the hard truths around its role in the energy transition
Will hydrogen be the skeleton key to unlock a carbon-neutral world? Subscribe to the weekly Hydrogen Insight newsletter and get the evidence-based market insight you need for this rapidly evolving global market
The location of the Megaton Energy Park, in the Ringkøbing-Skjern municipality, western Denmark, "benefits from complementary solar and wind production profiles — a hybrid that can be balanced so that the electrolysis runs optimally all year round", the company said in a press release.
The 4GW of wind and solar projects, including 2GW of offshore wind — which will come from GreenGo's existing development portfolio — will produce 11.5TWh annually, the equivalent of more than 30% of Denmark's total power consumption.
More than 1TWh of surplus heat from the Power-to-X project will also be utilized by the local district heating system and "new industries such as greenhouses and vertical farming" to the immediate south of the facility, which is zoned for such purposes in the existing municipal development plan.
GreenGo also intends to offer shares in the project to local people "to ensure the possibility of true co-ownership locally".
"With the Megaton project and the development of one of the world's largest energy parks in Western Jutland, we will once again put Denmark on the world map as a leader in the transition to 100% green power and the green fuels that are necessary to achieve the global climate goals towards 2050," said GreenGo CEO Karsten Nielsen.
Curiously, GreenGo has not revealed what sort of "green fuels" it is planning to produce. Hydrogen Insight has approached the company for comment.