Oil giant Shell has said it will invest up to $1bn annually in hydrogen and CCS (carbon capture and storage) in 2024 and 2025.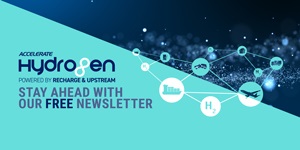 Hydrogen: hype, hope and the hard truths around its role in the energy transition
Will hydrogen be the skeleton key to unlock a carbon-neutral world? Subscribe to the weekly Hydrogen Insight newsletter and get the evidence-based market insight you need for this rapidly evolving global market
Downstream director Huibert Vigeveno told Shell's Capital Markets Day on Wednesday, that the capital expenditure would be focused "on regions such as Northwest Europe, the Middle East and here in North America — regions where we have an existing footprint, where policy support exists, where demand from customers is expected to be strong, and where we see a pathway to profitability".
Vigeveno, will be taking up a new role combining downstream and renewable energy on 1 July, added that "stronger policy and regulatory support is needed".
"A good example is the Inflation Reduction Act [IRA] here in the United States, which can make our investments more resilient and competitive."
The IRA provides tax credits of up to $3 per kilogram of green hydrogen produced, while also offering subsidies for CCS.
Vigeveno did not say what proportion of that funding would go into hydrogen or CCS, or whether the H2 would be green or blue, but the only hydrogen production facility mentioned was the 200MW Holland Hydrogen 1 project in the Netherlands, which is due to source its energy from a Shell offshore wind farm.
Hydrogen Insight has asked Shell for further details.
More generally, the company said it will prioritise hard-to-abate sectors where it expects to see the most profitable opportunities, including biofuels and electric vehicles.
"This won't be a linear journey," CEO Wael Sawan said of the energy transition process, although he added: "Shell will be the investment case through the energy transition."
The company is due to update its energy transition strategy in early 2024.