"Significant concentrations" of naturally occuring hydrogen have been discovered in northeast France in a well previously drilled by local power and gas producer La Française de l'Énergie (FDE).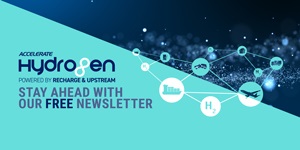 Hydrogen: hype, hope and the hard truths around its role in the energy transition
Will hydrogen be the skeleton key to unlock a carbon-neutral world? Subscribe to the weekly Hydrogen Insight newsletter and get the evidence-based market insight you need for this rapidly evolving global market
Scientists from the National Centre for Scientific Research (CNRS) and the University of Lorraine carried out "an innovative programne of measurements" at the site, near the village of Folschviller, and found "significant levels of dissolved hydrogen in the Carboniferous aquifer, at different depths".
Fluids found within the Carboniferous rock formations contain 15% hydrogen at a depth of 1,093 metres, the scientists discovered, estimating that the concentration is 98% at 3,000 metres underground.
"Carboniferous" refers to a geological period 259 to 299 million years ago that gets its name from its vast swamp forests that later fossilised to form coal.
"The next measurement campaigns planned by FDE will make it possible to assess more precisely the potential for exploiting this strategic resource for the ecological transition," University of Lorraine/CNRS scientists Philippe de Donato and Jacques Pironon are quoted as saying in an FDE press release.
The company has now submitted an application for an exclusive mining exploration permit covering an area of 2,254sq km in the Grand-Est region of northeast France.
"In this context, FDE is already planning to carry out new hydrogen concentration measurements in three existing wells in order to further enrich studies on the mechanisms of formation, transfer and production of white hydrogen [another term for natural hydrogen] in the Lorraine geological context," it says in the press release.
"A site for a pilot will be identified on the basis of the results obtained and then built to initiate local production and recovery of natural hydrogen in the Grand-Est Region."
FDE describes itself as "an independent multi-energy producer with a negative carbon footprint", which produces natural gas and "low-carbon" electricity.
It was once thought that hydrogen did not occur in its gaseous form on Earth, but deposits of natural H2 have recently been discovered in the US, South Korea and Spain, with hopes that it can be extracted in a similar way to natural gas, thus providing cheap, commercial-scale supplies of zero-carbon H2.