Kepco, the largest electricity generator in South Korea, has signed a memorandum of understanding (MoU) to join the development of the giant Western Green Energy Hub (WGEH) in the state of Western Australia.
Stay ahead on hydrogen with our free newsletter
Keep up with the latest developments in the international hydrogen industry with the free Accelerate Hydrogen newsletter. Sign up now for an unbiased, clear-sighted view of the fast-growing hydrogen sector.
The project — being developed by a consortium consisting of Intercontinental Energy, CWP Global and the Mirning Traditional Lands Aboriginal Corporation — is due to see 50GW of renewable energy, including 3,000 wind turbines and 2.5 million solar panels, installed across 15,000sq km of land.
A proportion of this green electricity will be used in the region, but it is also due to produce 3.5 million tonnes of green hydrogen or 20 million tonnes of green ammonia annually — which suggests that 25-35GW of electrolysers would be required.
The consortium is currently assessing wind and solar resources at the selected site in the sparsely populated Goldfields-Esperance region of southeast Western Australia, on land owned by the Mirning people.
Final investment decision (FID) on the project is scheduled for 2027. However, the full project could take 20 years to build, with reports from 2021 indicating that it could cost between A$75-100bn ($50-67bn) in total.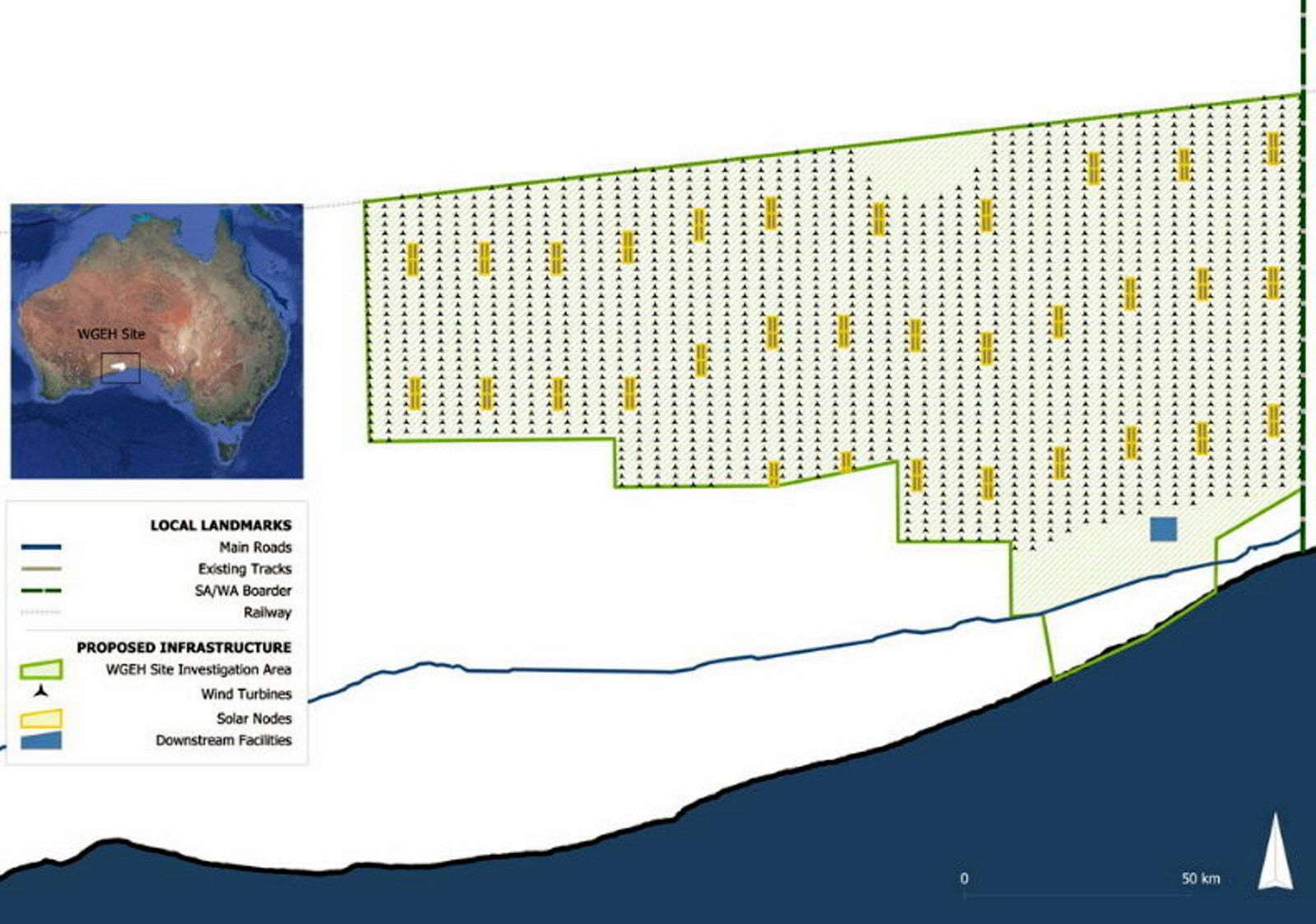 An offtaker has also not yet been confirmed. However, the inclusion of Kepco in the consortium could be a good sign for the project's ambitions to export green H2 and ammonia, as well as supplying the domestic market.
Kepco is increasingly setting up partnerships with developers of international gigawatt-scale green ammonia projects that could export large volumes to South Korea for power generation.
In October, it signed an MoU with Saudi state-affiliated developer ACWA Power to co-develop and act as the offtaker for potential projects in the Middle East and "other agreed geographies". Kepco is also the parent company of Korea East-West Power, which is a member of one of the consortia awarded land for green H2 and NH3 development in Oman last month.
Kepco anticipates it could use 5-10 million tonnes per year by 2030.
South Korea's government announced in March that it would introduce auctions for hydrogen power generation this year, with the first to offer long-term contracts for 1,300GWh of electricity made from grey H2.
It will also allow for co-firing a blend of up to 50% hydrogen with natural gas, or up to 20% ammonia with coal — although the latter has been criticised as extending the lifetimes of coal-fired power plants at extremely high cost, while potentially increasing greenhouse gas emissions compared to gas-fired power.
Intercontinental Energy and CWP are also co-developing with BP the Australian Renewable Energy Hub (AREH), which will have 14GW of electrolysis capacity and 26GW of wind and solar assets once fully commissioned. Final investment decision on the first phase is due in 2025 or 2026.