The Republic of Ireland could be producing green hydrogen more cheaply than either Spain or Germany by 2030, making it the lowest-cost renewable H2 in Europe, modelling from research house Aurora Energy Research has suggested.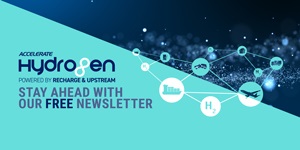 Hydrogen: hype, hope and the hard truths around its role in the energy transition
Will hydrogen be the skeleton key to unlock a carbon-neutral world? Subscribe to the weekly Hydrogen Insight newsletter and get the evidence-based market insight you need for this rapidly evolving global market
In new analysis, the firm found that under "optimal conditions" Ireland could be producing green hydrogen at a levelised cost of €3.50/kg ($3.70/kg), 8% lower than Spain is expected to manage and 35% lower than Germany.
In January, Aurora estimated that Spanish producers will be able to make hydrogen for €3.10/kg, but only in a few prime locations.
Ireland's potential is mostly due to high wind speeds in the west of the country as well as growing congestion on its electricity grid, which could push offshore wind operators to consider connecting their assets to electrolysers to make green hydrogen.
Ireland has average wind speeds of over 10 metres per second, according to Global Wind Atlas, and no shortage of wind generators.
Those who have been curtailing their wind power because power supply exceeds demand —pushing prices to zero — may be tempted by green hydrogen production during times of high wind speeds and low electricity demand.
Only a relatively small amount of Ireland's wind power, 1.2TWh per year or 4%, is curtailed at present, but Aurora expects this amount to more than double to 2.8TWh by 2030.
The Irish government has already set a target of connecting 2GW of offshore wind capacity to green hydrogen plants by 2030, which could yield 138,000 tonnes of hydrogen a year, significantly more than Ireland's projected 33,000 tonnes-a-year H2 demand, mostly for heavy industry.
The remaining 100,000 tonnes could in theory be exported to international markets, Aurora said, making Ireland a serious competitor with green H2 heavyweights Spain, Portugal and Germany — if it can push costs down.
However European producers will have to compete with international exports, which Aurora in January estimated would be competitive with domestically-produced hydrogen by 2030.
But Ireland's nascent green hydrogen sector will still require significant subsidy in order to attract hydrogen developers to the country, Aurora warned.
"Despite favourable production economics, Ireland is not yet an attractive option for hydrogen developers," said Nick Byrne, Aurora's Ireland research product manager, noting that in Aurora's latest Hydrogen Market Attractiveness Report, Ireland ranks 14th of the 15 EU countries considered, primarily because it lacks a national hydrogen strategy.
"This is due to change in the spring, potentially propelling Ireland to the other end of the rankings, but only if the strategy addresses all aspects of the market—policy support for supply, demand and infrastructure is crucial," he added.
Moreover, unsubsidised green hydrogen production will not be competitive with fossil gas in 2030 — costing 82% more than in Aurora's projected 2030 price scenario — which means it will struggle to gain domestic customers among Ireland's industrial H2 users who may instead opt for grey or blue H2.
To remedy this, Aurora is suggesting a range of regulatory and fiscal measures including a 20% capex support subsidy drawn from Ireland's €500m Climate Action Fund, although this would likely need clearance from the EU under its state aid rules, and government-backed hydrogen purchase agreements that close the price gap between green H2 and fossil-based hydrogen.
"A lack of action to reduce this premium could prevent a market from developing," Aurora warned. "Introducing government-backed hydrogen purchase agreements that would pay for the cost premium could incentivise production, whilst capital expenditure relief on investments in electrolysers could further reduce the costs to be recovered per kilogram of hydrogen."
The capex support subsidy could have the additional benefit of pushing down prices even further to €3.30/kg, Aurora said.