The Netherlands will hold a tender for a 500MW offshore electrolyser dedicated to green hydrogen production, the Dutch government said today (Monday).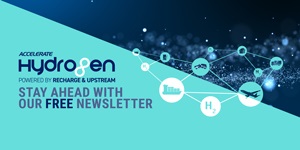 Hydrogen: hype, hope and the hard truths around its role in the energy transition
Will hydrogen be the skeleton key to unlock a carbon-neutral world? Subscribe to the weekly Hydrogen Insight newsletter and get the evidence-based market insight you need for this rapidly evolving global market
The North Sea facility would pump renewable H2 to shore via pipeline — possibly an existing natural-gas pipe belonging to network operator Gasunie.
Germany announced in January that it had set aside an offshore wind zone for a green hydrogen project of up to 1GW, with an electricity cable to shore forbidden.
And In November last year, the Dutch government awarded the rights to build a 600MW offshore wind/hydrogen project in the North Sea to a subsidiary of German utility RWE, but the electrolyser for that facility will be onshore.
The North of Wadden Islands offshore wind zone, where the new Dutch project would be built, was previously earmarked for a standard turbine array of up to 700MW that would export power.
No details are given of when the tender will be held in a statement announcing the plan, which says consultation will now open over "a number of important issues" with local authorities and potential participants in the project.
Those issues include "the landing of the pipeline to bring the hydrogen from the wind farm ashore and how hydrogen production can be done safely and in an ecologically responsible manner".
In the meantime, the Dutch authorities are planning to later this year sanction a site for a smaller pilot project with about 50-100MW of electrolyser capacity as a stepping stone to the larger plan.
"This should remove the first defects from the technology so that the project of 500MW can be realised efficiently. Later this year, the minister also wants to choose a preferred location for this smaller project."
Dutch energy minister Rob Jetten said the 500MW project would be a major step beyond the Netherlands' existing goal to have 4GW of onshore electrolyser capacity in place by 2030.
"We have already designated the area as a preferred location so that preparations can start quickly and we provide the sector with clarity so that they can make their investment plans."
The Netherlands last year unveiled plans to construct the world's first national hydrogen network, leaning heavily on adapting Gasunie's existing pipelines.
A version of this story first appeared on the website of our sister title, Recharge.