Buoyed by Canada's federal hydrogen subsidies, South Korean conglomerate SK has taken a step into green hydrogen production, with the investment of US$50m in the first phase of Canada's massive Nujio'qonik green ammonia export project — which appears to have been scaled up by 20% to 600MW.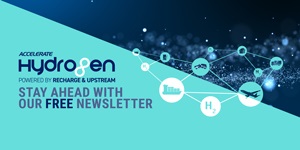 Hydrogen: hype, hope and the hard truths around its role in the energy transition
Will hydrogen be the skeleton key to unlock a carbon-neutral world? Subscribe to the weekly Hydrogen Insight newsletter and get the evidence-based market insight you need for this rapidly evolving global market
As part of the deal, SK's environmental engineering subsidiary SK Ecoplant will take a 20% stake in the project in Stephenville, Newfoundland, on Canada's east coast, with first refusal on all the scheme's engineering, procurement and construction (EPC) work, which it believes is worth $1.4bn.
The Korean conglomerate is also lined up to supply and install solid-oxide electrolysers (SOEs) made by Bloom Energy for the project, as well as proton exchange membrane (PEM) electrolysers.
And Project Nujio'qonik's US-based developer World Energy GH2 has told Hydrogen Insight that it expects to reach final investment decision (FID) this autumn — "likely" in October or November, a spokesperson said.
The project was first unveiled last summer amid a visit to eastern Canada by an official business delegation from Germany, including German chancellor Olaf Scholz, who, with Canadian president Justin Trudeau launched the Canada-Germany Hydrogen Alliance.
The Korean conglomerate pointed to opportunities presented by the alliance — noting that "the project is expected to accelerate" on the back of German appetite for green ammonia imports — as well as Canada's recent efforts to match US hydrogen subsidies with its own tax credit programme.
First announced in November, Canada's Clean Hydrogen Investment Tax Credit (CHITC) offers a 40% tax rebate on equipment used for hydrogen production with an emissions intensity of less than 0.75kg of CO2-equivalent per kilogram of H2, with lower rates for emissions intensity up to 4kgCO2e/kgH2.
There is an additional 15% tax credit on green ammonia equipment, and Trudeau has promised a Carbon Contracts for Difference scheme (closing the price gap between green hydrogen and grey hydrogen made with unabated fossil gas) in future.
"There is another reason why we should pay attention to Canada," SK said. "This is because it is not simply a country that produces a lot of new and renewable energy, but is actively developing and promoting policies focused on fostering the hydrogen economy in order to preoccupy the world market as a new and renewable energy exporting country."
The company added: "A representative example is the [CHITC… which] is evaluated to lead the explosive growth of Canada's green hydrogen and ammonia market."
Project growth and funding
The first phase of the project was originally envisaged as a 500MW electrolyser project, powered by 1GW of Newfoundland's abundant wind resources, producing its first green hydrogen by 2024 and first green ammonia for export by 2025.
Since then the first phase of the electrolyser project appears to have been scaled up by 20% to 600MW, while keeping the associated renewables capacity the same — possibly a result of the higher efficiencies associated with solid-oxide electrolysers — while timescales have been pushed back.
First green hydrogen is now mooted for 2025, while the first production of green ammonia is scheduled for 2026.
The second phase, taking total project capex to a whopping $12bn, aims to scale up to 1GW of electrolyser capacity and 2GW of wind, producing 250,000 tonnes of green hydrogen and 1.5 million tonnes of green ammonia for export. Further expansions are also being considered.
During the three-day visit last summer, which included a trip to Stephenville, German companies had signed at least one tentative ammonia supply agreement from prospective eastern Canadian green NH3 projects — although World Energy GH2 has not revealed whether it has any such deals in the pipeline.
And World Energy GH2, for whom Project Nujio'qonik is their first foray into green hydrogen production, has not yet revealed how it will finance the estimated $4.5bn required for the first 600MW phase, let alone the ambitious $12bn second phase.
The firm lists two private equity firms in its project team: Nova Scotia's CFFI Ventures, which is run by World Energy GH2 chairman John Risley, and Australia's Columbus Capital, but neither has publicly committed funds.
The injection of funds from SK Ecoplant, the first overseas investment in any Canadian green hydrogen project, was touted by World Energy GH2 as evidence of the project's sound economics, a position that was echoed by SK itself.