Chinese refining giant Sinopec has broken ground on a massive green hydrogen project in Inner Mongolia that is now the biggest renewable H2 project under construction in the world.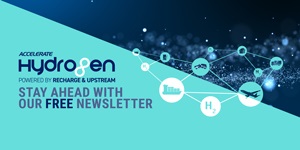 Hydrogen: hype, hope and the hard truths around its role in the energy transition
Will hydrogen be the skeleton key to unlock a carbon-neutral world? Subscribe to the weekly Hydrogen Insight newsletter and get the evidence-based market insight you need for this rapidly evolving global market
Once built, the 5.7 billion yuan ($831m) Ordos project will produce around 30,000 tonnes of green hydrogen per year, which will partially displace the use of polluting coal-based "black H2" in a nearby chemicals plant.
It will replace Sinopec's other flagship scheme, the 260MW, 20,000 tonnes-per-year Kuqa plant currently being built in the western region of Xinijang, as the world's largest green hydrogen project.
Sinopec has not disclosed the electrolyser capacity of the plant, but calculations made by Hydrogen Insight — extrapolated from the electrolyser size and H2 output of Kuqa —suggest that it could be in the region of 390MW.
The electrolyser will be powered by 450MW of wind power and 270MW of solar, according to Chinese media.
It appears that Sinopec has scaled up its plans for the Ordos plant from an original output of 20,000 tonnes per year to 30,000 tonnes — although the company has not said why, or when the Ordos plant will come into operation.
The plant also has the capacity for 288,000 cubic metres of hydrogen storage, as well as a pipeline network to deliver the H2 to its main customer, the Zhongtian Hechuang Ordos Coal Deep Processing plant, which makes synthetic chemicals, the company says.
According to Sinopec chief executive Ma Yongsheng, the Ordos hydrogen "demonstration project" will act as a "new starting point" to accelerate the pace of hydrogen supply chain in Inner Mongolia.
Sinopec, which as a refiner operates a huge oil-based vehicle refuelling network in China, has grand ambitions to become China's leading green hydrogen developer, with the aim of massively expanding its H2 refuelling network.
The company plans to produce more than two million tonnes of green H2 annually by 2025, its executives have said. It is reportedly developing a GW-scale electrolysis project in Ulanqab, Inner Mongolia.
But Sinopec's Kuqa project was dramatically scaled back last year after the company slashed the size of the solar array associated with the scheme.
Hydrogen from Kuqa is expected to replace grey H2 made from fossil gas at Sinopec's Tahe refinery.
But there remains a risk that the company could source some of its power from coal-fired grid electricity rather than renewables, which would dramatically increase its carbon intensity and threaten its ability to legitimately call its hydrogen "green".