The world's first purpose-built offshore-wind-to-hydrogen project is due to become operational by 2026 after winning a zero-subsidy Dutch offshore wind tender.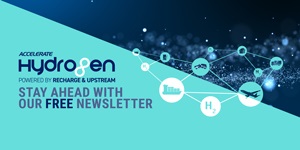 Hydrogen: hype, hope and the hard truths around its role in the energy transition
Will hydrogen be the skeleton key to unlock a carbon-neutral world? Subscribe to the weekly Hydrogen Insight newsletter and get the evidence-based market insight you need for this rapidly evolving global market
Oranje Wind Power 2, a subsidiary of German utility RWE, was yesterday awarded the rights to build the "more than 760MW" Hollandse Kust West 7 wind farm — which will include 600MW of onshore electrolysers to produce green hydrogen — after beating 47 other applicants in the zero-subsidy government tender.
The innovative project — which will also include floating solar panels, batteries and 225MW of electric boilers to produce heat for district heating and industrial users — won the non-price tender after the Dutch government called upon potential developers of the offshore wind zone to "come up with new solutions for fully integrating all the electricity generated into the [national grid]".
"RWE's ultimate goal is to perfectly match the demand for energy to the flexible generation profile of offshore wind farms, contributing to grid stability," the utility said in a statement. "To unlock full system integration the concept for HKW VII combines offshore wind with electrolyser capacity for green hydrogen production, and other flexible demand solutions like e-boilers and battery storage."
RWE CEO Markus Krebber added: "With our innovative concept we developed a blueprint for a new generation of offshore wind farms, which can be perfectly integrated into the energy system."
A separate project in the UK called Gigastack is aiming to produce green hydrogen from offshore wind by 2025, but that would use electricity from the already-completed 1.3GW Hornsea 2 project to power 100MW of onshore electrolysers — and a final investment decision is not due to be taken until the second quarter of 2023.
Orsted, which owns that UK North Sea wind farm, would then aim to increase the electrolyser capacity to 1GW by 2030 together with its project partners — electrolyser maker ITM Power, consultancy Element Energy and offtaker Phillips 66.