The world's largest green hydrogen project — the 260MW Kuqa facility in Xinjiang, northwest China ­— is to be commissioned at the end of May, with commercial operation scheduled to begin on 30 June, according to its developer, Chinese state-owned oil giant Sinopec.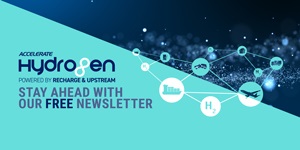 Hydrogen: hype, hope and the hard truths around its role in the energy transition
Will hydrogen be the skeleton key to unlock a carbon-neutral world? Subscribe to the weekly Hydrogen Insight newsletter and get the evidence-based market insight you need for this rapidly evolving global market
It will overtake the current world leader, a 150MW project in northern China owned by Ningxia Baofeng Energy, although Kuqa's reign as the largest green hydrogen system in operation will not last long.
Another Sinopec project that is about a third larger is already under construction in Ordos, Inner Mongolia, China, but it is not known when that will be completed (see below), and the company has also announced a ¥20bn ($2.8bn) green hydrogen project in Inner Mongolia that will pump 100,000 tonnes of H2 a year through a new 400km pipeline to Beijing.
The green hydrogen produced at the ¥3bn ($425m) facility in the city of Kuqa will be sent by a pipeline to a nearby oil refinery operated by subsidiary Sinopec Tahe Refining and Chemical Company, where it will replace grey hydrogen made from unabated natural gas. H2 is used in oil refineries to remove sulphur from crude oil and to produce petrochemicals.
A storage tank able to store 210,000 cubic metres of hydrogen will be used at Kuqa to ensure a steady stream of H2 along the pipeline, which is able to transport 28,000 cubic metres per hour, while the project's 13 electrolysers have been supplied by three local manufacturers — Longi, Peric and Cockerill Jingli Hydrogen, which is now 100%-owned by Belgium's John Cockerill.
A general rule of thumb is that green hydrogen projects require roughly 2MW of renewable energy for every 1MW of electrolysers
But questions remain over how green the hydrogen produced at Kuqa will truly be.
The original proposal for the project, unveiled in 2021, declared that it would be powered by a 1GW solar farm, and last June the array was said to have been downsized to 361MW, according to research house BloombergNEF.
In a private report to its subscribers last summer, BNEF said that a 361MW plant would only provide 58% of the electricity needed to meet the electrolysers' 1,060GWh annual power requirements, with the rest needing to be sourced from the local coal-reliant grid.
BNEF said at the time that Sinopec was then planning to negotiate with the local grid operator for the remaining 42%, but that its commitments thus far had been "vaguely described by Sinopec to be from nearby wind farms or other clean power sources". If any fossil-fuel-fired power is used to produce hydrogen at Kuqa, the output cannot be said to be "green" or "renewable".
A general rule of thumb is that green hydrogen projects require roughly 2MW of renewable energy for every 1MW of electrolysers to account for the variability in wind and solar output.
Sinopec plans to produce more than two million tonnes of green hydrogen annually by 2025, its executives have previously stated, with gigawatt-scale projects in the pipeline.
The Ordos project
Sinopec has not revealed the electrolyser capacity of the Ordos project, only that it will produce about 30,000 tonnes of hydrogen per year.
The Kuqa project will produce roughly 20,000 tonnes annually, which suggests Ordos will have a capacity of about 390MW, although the latter project will apparently be powered by 450MW of wind and 270MW of solar, according to Chinese media.
But as wind tends to blow more strongly at night than during the day, such hybrid projects are expected to produce more electricity over a 24-hour period than those relying on solar power alone, which could mean that a smaller capacity of electrolysers would be required.
The Ordos project will include 288,000 cubic metres of hydrogen storage, as well as a pipeline to deliver the H2 to its main customer, the Zhongtian Hechuang Ordos Coal Deep Processing plant, which currently uses the dirtiest form of hydrogen (made from unabated coal) to produce synthetic chemicals, Sinopec said in February when construction began.
Xu Yihe is a Singapore-based reporter working for Hydrogen Insight's sister oil & gas publication, Upstream.