Rolls-Royce and EasyJet have announced "a new aviation milestone" with the "world's first run of a modern aero engine on hydrogen".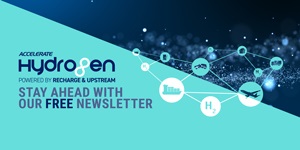 Hydrogen: hype, hope and the hard truths around its role in the energy transition
Will hydrogen be the skeleton key to unlock a carbon-neutral world? Subscribe to the weekly Hydrogen Insight newsletter and get the evidence-based market insight you need for this rapidly evolving global market
The aircraft engine manufacturer and budget airline conducted a ground test on a converted AE 2100-A turboprop engine — the kind that is used for small, regional airplanes — at an outdoor military aircraft testing site in southern England.
"It marks a major step towards proving that hydrogen could be a zero carbon aviation fuel of the future and is a key proof point in the decarbonisation strategies of both Rolls-Royce and EasyJet," the companies said in a statement.
"Both companies have set out to prove that hydrogen can safely and efficiently deliver power for civil aero engines and are already planning a second set of tests, with a longer-term ambition to carry out flight tests."
The pair are now planning a ground test of a Rolls-Royce Pearl 15 jet engine, which has been designed for private jets.
Hydrogen engines are preferred to fuel cells for aircraft due to their ability to generate more energy in a shorter space of time.
Critics argue that due to its lower energy density by volume, hydrogen will struggle to power airplanes beyond regional flights, while burning H2 in air will also result in high levels of nitrous oxide, a powerful greenhouse gas.
"The success of this hydrogen test is an exciting milestone," said Rolls-Royce chief technology officer Grazia Vittadini. "We only announced our partnership with easyJet in July and we are already off to an incredible start with this landmark achievement. We are pushing the boundaries to discover the zero carbon possibilities of hydrogen, which could help reshape the future of flight."
EasyJet CEO Johan Lundgren added: "Hydrogen offers great possibilities for a range of aircraft, including EasyJet-sized aircraft. That will be a huge step forward in meeting the challenge of net zero by 2050."
The first hydrogen-powered airplane, the Tupalev Tu-155, flew in the Soviet Union in 1988 — which probably explains the use of the word "modern" in Rolls-Royce and EasyJet's statement.
The green hydrogen used for the testing was produced from wind and tidal energy at the European Marine Energy Centre on in the Orkney Islands off the north of Scotland.