A new €500m ($530m) hydrogen train fleet that began operating in the German region of Frankfurt in December last year has led to "chaos", "massive disruptions" for passengers, and weeks-long cancellations requiring bus replacements, according to local media.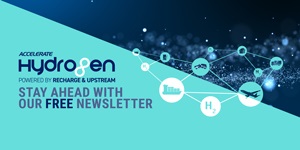 Hydrogen: hype, hope and the hard truths around its role in the energy transition
Will hydrogen be the skeleton key to unlock a carbon-neutral world? Subscribe to the weekly Hydrogen Insight newsletter and get the evidence-based market insight you need for this rapidly evolving global market
The 27 Coradia iLint fuel-cell trains were ordered by Frankfurt Rhine-Main transport association RMW in 2020 from French manufacturer Alstom, following a competitive tender in 2019, with all of the trains scheduled to be in operation on 11 December 2022.
But due to production delays, only six had been delivered by that date, and only two went into service on 11 December on the mountainous Taunus railway line — the first of four routes due to run hydrogen fuel-cell trains instead of diesel locomotives.
"The new operating procedures when using hydrogen technology continue to pose challenges for the project partners involved," a spokesperson for the new fleet operator Start Deutschland, a subsidiary of Deutsche Bahn, told the Frankfurter Rundschau newspaper in mid-January.
Defects in both hydrogen and replacement diesel vehicles were "massive" and "not foreseeable", said the Frankfurt transport association RMV, which bought the trains from Alstom.
When asked by the Frankfurter Rundschau to describe the specific problems with the new H2 locomotives, a DNV spokesperson said in January: "Various analyses are currently being carried out in order to be able to better identify, evaluate and then eliminate the technological challenges."
Both local and railway media have reported on difficulties refuelling the vehicles at the newly built filling station, including allegations that temperatures below minus 10°C in December caused fuelling issues, but Hydrogen Insight has not been able to verify this.
Ulrich Krebs, a local politician and chairman of the supervisory board of the RMV, described the situation as "completely unacceptable".
Hydrogen Insight sent several questions to Alstom, but the French company refused to answer any of them directly, instead replying with general statements.
"As with any innovation process, the Coradia iLint is now entering a phase of stabilisation of the operation process, as well as in a phase of reliability increase of the equipment, in particular the most innovative equipment," an Alstom spokesperson said.
"The phases we are entering now are normal and necessary for the implementation of innovative solutions: innovation is the result of a long cycle during which all stakeholders are able to improve the processes and the operation.
"We will not make any further comment and are focusing all our efforts on the stabilisation of our operations and the increase in train reliability."
The entire Taunus railway line was closed from 13 to 29 January, and again from 10 February, and is not scheduled to reopen until 26 February, with buses acting as a rail replacement service.
A spokesperson for RMV told the Frankfurter Rundschau that the initial line closure was due to "unscheduled additional refuelling and various disruptions", explaining: "It was not foreseeable that the defects in both the hydrogen and diesel vehicles would be so massive that even an extremely generous vehicle reserve of 50% would not be sufficient to ensure operation."
However, the RMV states on its website that the line closures have been because of necessary vegetation work — the cutting and felling of trees along the route.
By the time the Taunus line was closed in January, a total of 15 of the 27 trains had arrived, according to RMV, and now the full fleet will not be delivered until June, according to train manufacturer Alstom, citing supply chain problems caused by both Covid and the Ukraine war.
The four train lines, which are considered difficult to electrify, will use hydrogen produced as a chemical industry by-product at nearby Höchst Industrial Park.
According to RMV, this production is powered by the local power grid, which gets about 50% of electricity comes from renewable energy sources. The price being paid by RMV for this hydrogen is "well below market price currently quoted elsewhere".
The hydrogen trains are currently operating between Frankfurt, Bad Homburg and Brand-Oberndorf, with the three other routes due to get their fuel-cell locomotives up and running later this year.
Last autumn, the German state of Baden-Württemberg decided that hydrogen trains would no longer be considered as an option to replace its diesel trains, after a study commissioned by the state found that installation of overhead electricity lines or battery hybrid trains would be far more economical over a 30-year period.
This article was updated on 15 February with the comments from Alstom.