Chinese oil giant Sinopec has built its first two methanol-to-hydrogen filling station in Dalian, China, with another six under construction.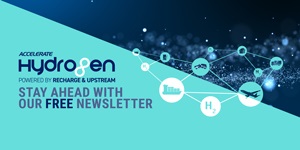 Hydrogen: hype, hope and the hard truths around its role in the energy transition
Will hydrogen be the skeleton key to unlock a carbon-neutral world? Subscribe to the weekly Hydrogen Insight newsletter and get the evidence-based market insight you need for this rapidly evolving global market
As methanol is more energy dense than compressed or liquid hydrogen, the state-owned company said these stations will "save costs on hydrogen production, storage and transportation by more than 20% compared to traditional hydrogen refueling stations".
"Sinopec's hydrogen production plant has the advantages of covering a small area, having a short construction time, and having a green, environmentally friendly production process…. It will become a pilot model to lead the development of China's hydrogen industry."
The stations can crack methanol into 500 cubic meters of hydrogen per hour, with equipment covering 64 square metres — compared to up to 500 square metres using conventional hydrogen-only equipment, said the company, which says it has built the largest number of H2 filling stations in the world.
"The launch of the Service Station has showed that distributed methanol-to-hydrogen is the right roadmap for the sustainable development of China's hydrogen fueling stations," said Yang Junze, executive director of Sinopec Fuel Oil Sales.
"It is a leapfrog development that offers a safe, reliable, green, intelligent, integrated and efficient solution that will contribute to the scaled application of hydrogen energy at lower cost."
However, there are no details about the carbon footprint of the hydrogen, or the fact that cracking methanol (CH3OH) releases both hydrogen (H2) and carbon dioxide (CO2).
As much as 80% of methanol in China is derived from coal gasification, according to a recent article from the South China Morning Post citing data from China Nitrogen Fertilizer Industry Association, which makes it cheap, but with very high carbon emissions.
In 2017, US Energy Information Administration estimated that the around two thirds of methanol produced in China was made from coal.
China is the biggest producer of methanol in the world, accounting for 57% of the world's entire production, according to the International Energy Agency (IEA).
Hydrogen Insight has approached Sinopec for comment.