Powering road vehicles using synthetic gasoline or diesel produced from green hydrogen would require 3.5 to five times more renewable energy than a battery electric vehicle (BEV), and should therefore not be allowed as a climate solution, according to a coalition of six European environmental organisations.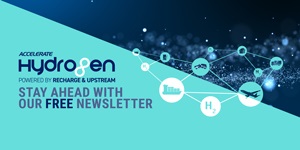 Hydrogen: hype, hope and the hard truths around its role in the energy transition
Will hydrogen be the skeleton key to unlock a carbon-neutral world? Subscribe to the weekly Hydrogen Insight newsletter and get the evidence-based market insight you need for this rapidly evolving global market
"Making e-fuels for road transport would be an unacceptable waste of renewable electricity," said the group, made up of four Spanish non-profits, Brussels-based campaigner Transport & Environment and a Madrid-based climate-focused consulting firm (see panel below for details).
It would also be a very expensive option for drivers, due to the high cost of e-fuel production — which might at least partly explain why the only car manufacturers currently promoting its use on the road are Ferrari and Porsche (see below).
"Even with an optimistic approach, a driver with a synthetic gasoline car in 2030 would spend €10,000 [$10,860] more than a driver with a battery electric car over five years," the coalition writes in a press release, describing that "as an unapproachable price difference for most Europeans".
The statement explains that using synthetic fuel produced from green hydrogen in cars, vans, buses and trucks "would be an aberration from the point of view of energy efficiency".
When a battery electric vehicle is powered by renewable energy, 77% of the initial power is used to turn the wheels.
"In the case of e-fuels, the efficiency is only 20% for electro-diesel and 16% for electro-gasoline," the group explains.
"The decarbonization of transport through renewable electricity is a major challenge. Therefore, there is no scope to use renewable electricity inefficiently. Allowing the use of e-fuels in road transport, when there are much more efficient technical alternatives such as the direct use of electricity (battery electric vehicles), entails a huge energy penalty and risks derailing the entire effort of decarbonisation."
The group added that using green hydrogen to power a road vehicle would also require 2.5 times more renewable energy than a BEV.
"If the use of green hydrogen or e-fuels for road transport were to be promoted, a large amount of additional renewable electricity would have to be generated to produce them, which would require the installation of a significant number of extra renewable energy plants, with the consequent impact on the territory and potentially on biodiversity," the statement said.
"It is false that the use of e-gasoline or e-diesel in vehicles is neutral for the climate. Their use in a combustion engine produces two of the most potent greenhouse gases: Methane (CH4) and nitrous oxide (N2O).
"If all new petrol and diesel cars sold in 2020 were to run on e-petrol or e-diesel, the additional CO2-equvailent emissions (from methane and nitrous oxide) would be equivalent to about 50,000 more fossil cars on EU roads in just one year."
The statement also points out that engines burning e-fuels would also emit carbon monoxide and nitrogen oxides (NOx) that are harmful to human health.
"More than 400,000 European die prematurely due to air pollution, and two out of three citizens of the largest cities in the EU demand cleaner air."
The press release concludes: "For all these reasons, Transport & Environment, SEO/BirdLife, Fundación Renovables, Ecologistas en Acción, ECODES and Climate Strategy demand that the [Spanish] government, within the framework of the current review of the National Integrated Energy and Climate Plan (PNIEC), exclude e-fuels from road transport and [that] its use is concentrated in sectors, such as aviation and most of maritime transport, in which decarbonisation cannot be easily achieved through direct electrification."
Last month, the European Commission proposed new rules that would require 1.2% of all airplane fuel to be made from synthetic aviation fuel made by combining green hydrogen with captured CO2.
The EU had been widely expected to ban internal combustion engines (ICE) in cars by 2035, but a last-minute change of heart by the German government in March — believed to come after intense lobbying from Porsche — led to a compromise position that would allow cars to burn CO2-neutral synthetic fuel.
Porsche, Ferrari and e-fuels
The only commercial production of e-fuel to date has been made at the Haru Oni pilot project in southern Chile — using green hydrogen manufactured using electricity from an on-site wind turbine, and carbon dioxide captured from the air.
Porsche was not only an investor in the project, but it is also buying all its output — the first batch of which was 2,600 litres of e-gasoline shipped 16,800km to eastern England for testing in March, even though it was said to be 100 times more expensive than fossil petrol.
The German luxury car maker plans to use this e-fuel to power unmodified vehicles in the Porsche Mobil 1 Super Cup — a series of races using identical Porsche 911 cars that are held during Formula One grand prix weekends in Europe.
Last month, Haru Oni's developer, HIF Global, was given the green light to build a far larger facility in southern Texas, able to produce enough e-gasoline to decarbonise 400,000 petrol cars a year.
Ferrari has also come out in favour of e-fuels, saying it plans to continue building ICE cars into the late 2030s.
In an interview with the BBC, published online yesterday, company CEO Benedetto Vigna said that the EU vote to allow e-fuels in cars after 2035 was a sign that the technology was evolving.
""I don't want to be arrogant and impose a choice on our client," he said. "It is the client who must choose if they want an ICE, a hybrid or an electric car."
The six environmental organisations that issued the statement
Climate Strategy & Partners, a Madrid-based environmental consulting firm
Fundación Renovables (Renewables Foundation in English), a Madrid-based non-profit think tank
Ecodes, a Zaragoza-based independent non-profit organisation working on ecology and development issues
Ecologistas en Acción (Ecologists in Action), a Spanish grassroots confederation of more than 300 environmental groups,
SEO BirdLife, Spain's main bird conservation charity, based in Madrid.
Transport & Environment, a European non-profit based in Brussels that campaigns for clean transport.