The first 2,600 litres of e-gasoline manufactured from the landmark Haru Oni project in southern Chile is now on its way across the Atlantic on a 16,800km journey to eastern England, where it will be tested by Porsche.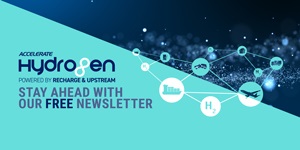 Hydrogen: hype, hope and the hard truths around its role in the energy transition
Will hydrogen be the skeleton key to unlock a carbon-neutral world? Subscribe to the weekly Hydrogen Insight newsletter and get the evidence-based market insight you need for this rapidly evolving global market
The German car maker plans to use the carbon-neutral synthetic petrol — produced from wind-powered green hydrogen and CO2 captured directly from the air — in the Porsche Mobil 1 Super Cup, a series of races using identical Porsche 911 cars that are held during Formula One grand prix weekends in Europe.
These cars will not need their engines modified to use the e-fuel, which is "precisely the attraction" of it, according to Victor Turpaud, regional manager for Latin America at HIF Global, the local company leading the project.
Haru Oni — which is currently a small pilot plant near Punta Arenas, the southernmost city in the Americas, but is set for a massive expansion in the coming years — is the first attempt to commercialise e-fuels in a carbon-neutral manner.
It manufactures the synthetic petrol by using electricity from an on-site 3.4GW Siemens Gamesa wind turbine to split water molecules inside a Siemens Energy PEM electrolyser. Carbon dioxide, captured directly from the air using Global Thermostat equipment, is then combined with the hydrogen to form a syngas, that is then passed through a catalyst inside a reactor to produce a chemical reaction that creates green methanol (CH3OH).
This e-methanol is then vaporised, superheated and fed into a fluid bed reactor with a second catalyst that converts it into hydrocarbon fuel and water.
The initial output from the $74m pilot — which began operation in December — is set to be 130,000 litres, but the project partners aim to scale this up to 55 million litres by 2025 and more than 550 million litres by 2027.
The first batch of 2,600 litres is now on a container ship heading to the Haltermann Carless refinery (named for company co-founder Eugene Carless, rather than a lack of cars) in Harwich, eastern England, where it will be tested to ensure it can be used in unmodified engines.
E-fuel recently hit the headlines after Germany challenged EU plans to phase out the internal combustion engine in cars by 2035, arguing that carbon-neutral synthetic fuels — used in conventional petrol engines — should be allowed after that date.
The German intervention allegedly came after pressure on the government from Porsche, which is a partner on the Haru Oni project — alongside Enel, ExxonMobil, Siemens Energy and two local fossil-fuel companies — and is due to offtake all its efuel.
As the Haru Oni website states: "Synthetic fuels allow classic and modern sports cars to be driven nearly CO₂ neutral.
"This is particularly important for prestige brands such as Porsche. About 70% of all Porsche cars ever sold are still on the road, and with synthetic fuels, these classic cars can be part of the solution to lower emissions."
Earlier this week, the Potsdam Institute for Climate Impact Research, which is funded by the German government, released a report that put the initial cost of manufacturing e-fuel at the Haru Oni pilot at about €50 ($53.80) per litre — 100 times more expensive than the typical wholesale price of fossil gasoline.
However, it added: "As soon as the production of e-fuels on an industrial scale with direct air capture becomes established, production of around €2 per litre can arise.
"In the long term, production costs of less than €1 per litre of e-fuel will probably be possible."
However, the use of synthetic gasoline in cars would almost certainly be extremely niche as the e-fuel would be an expensive option compared to batteries or hydrogen.
Energy losses mean that for every 100kWh of renewable energy used to make green hydrogen and both power direct-air capture and the aforementioned catalyst reactions, only 13kWh would be available on the road.
That compares to 30kWh for fuel-cell vehicles and 77kWh for battery electric cars, according to figures from Brussels-based non-profit Transport & Environment.
In other words, almost six times more renewable energy would be required to power a car using e-fuels, compared to a battery electric alternative — with all the added expense that would entail.
Synthetic fuel arguably has a brighter future in aviation, where e-kerosene could be used as a direct replacement for fossil jet fuel without the need to adapt existing airplanes.