The German city of Wiesbaden is to retire its ten hydrogen-powered fuel-cell buses — a year after they were delivered — after its publicly owned transport company's €2.3m ($2.44m) filling station broke down.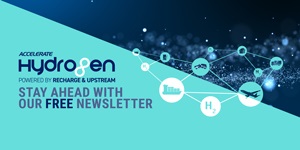 Hydrogen: hype, hope and the hard truths around its role in the energy transition
Will hydrogen be the skeleton key to unlock a carbon-neutral world? Subscribe to the weekly Hydrogen Insight newsletter and get the evidence-based market insight you need for this rapidly evolving global market
According to regional newspaper Frankfurter Allgemeine, the refuelling pump "is no longer in operation due to a defect".
Portuguese vehicle manufacturer Caetano delivered the first fuel-cell bus to ESWE Verkehr in the third quarter of 2021, with the other nine vehicles following by the end of the year.
"Fuel-cell technology using green hydrogen is a central component in improving the quality of air and the quality of life in Wiesbaden," ESWE Verkehr still states on its website.
The vehicles were funded by €1.95m from the EU's Clean Hydrogen Partnership and €1.68m from the German government, while more than €2m of funding for the filling station came from the German states of Hesse (where Wiesbaden is located) and neighbouring state Rhineland-Palatinate (due to it being a joint project with the city of Mainz).
There are now question marks as to whether ESWE Verkehr will have to repay the money it received.
Officially, the company's management board has merely informed the supervisory board, which is chaired by the city council's head of transport, about its intention to scrap its hydrogen programme.
And the official reasons for the decision are not exactly clear, with the problems with the green-hydrogen filling station not mentioned.
According to an ESWE press release unveiled on Wednesday, the one-year-old buses are too small to meet demand — "buses with a larger passenger capacity are needed" — and that having "two drive technologies in our workshop infrastructure is already very demanding".
ESWE will therefore procure 36 new articulated diesel buses "for the years 2022 to 2024" — because "there are currently no such buses with so-called alternative drives on the market".
But it also said that it has no intention of ever using hydrogen buses again — without explaining why.
"With 120 battery-electric vehicles, ESWE Verkehr already operates one of the largest zero-emission bus fleets in Germany. Only in Hamburg is the electric bus fleet currently larger. However, the backbone is currently formed by [our] 130 diesel articulated buses," said the company's managing director, Jan Görnemann.
The company explained in the press release: "The realignment of the mobility service provider's fleet strategy envisages removing a further twelve-metre-long solo buses from the fleet: a total of 61 diesel vehicles and ten fuel-cell buses.
"In the long term, battery-electric articulated buses and some double-articulated buses are to be procured in the second half of this decade — provided that ESWE Verkehr then has an additional depot area available."
It added: "ESWE Verkehr has already entered into a dialogue with all those involved in the hydrogen project in order to discuss how to proceed and to plan the next steps. The mobility service provider will report further details on the progress in due course. Until then, however, all partners are bound by their contractually agreed confidentiality obligations."
The news comes two weeks after politicians in the German city of Duisburg — 225km away from Wiesbaden — voted to spend €91m on 100 hydrogen buses to replace its existing fleet of diesel vehicles by 2030, after being recommended to do so by a study that will remain secret.
Earlier this year, the French city of Montpellier cancelled an order for 51 hydrogen-powered buses after newly elected officials found that electric buses would be six times to cheaper to run.
However, the city of Frankfurt, which is 40km from Wiesbaden, says it is happy with the 13 hydrogen buses it has been testing since October, and plans to put more than 120 fuel-cell buses on its roads within ten years, reports Frankfurter Allgemeine.