UPDATED: This article was amended on 30 November to correct the previously published statement that Maersk would place orders for ammonia vessels in 2024

Danish shipping giant Maersk is firmly pitching its decarbonisation efforts towards methanol, telling Hydrogen Insight it "can't wait" until 2024 when it believes ammonia-powered vessels will come to market.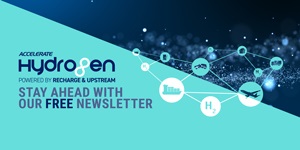 Hydrogen: hype, hope and the hard truths around its role in the energy transition
Will hydrogen be the skeleton key to unlock a carbon-neutral world? Subscribe to the weekly Hydrogen Insight newsletter and get the evidence-based market insight you need for this rapidly evolving global market
But the company is nevertheless looking at ammonia as a future decarbonisation fuel for its shipping fleet, despite concerns around cost and safety.
In a technology development timeframe outlined in a presentation from the company's environmental, social and governance (ESG) investor day, the company illustrated the relative maturity of methanol ships compared to their ammonia equivalent.
The first orders for methanol ships are already in, with the first deliveries of large methanol-powered ships in 2024, according to the presentation.
By comparison, first orders for small ammonia vessels will begin in 2024 with delivery in 2026, Maersk said, with deliveries of medium- to large-sized ammonia-powered vessels not expected until 2030.
"The technology [for methanol] is ready now and we have to move this decade," a spokesman for the company told Hydrogen Insight. "We can't wait for ammonia."
According to Hydrogen Insight's sister publication Tradewinds, Maersk is among three major shipowners to have ordered a combined total of 26 methanol dual-fuel vessels.
The company was long made its methanol ambition clear, placing early orders for ships powered by the fuel and shoring up its methanol supply — signing a tentative deal for up to two million tonnes from Spain earlier this month.
Methanol has made more inroads due to cost and safety considerations of ammonia, a spokesperson for Maersk told Hydrogen Insight. However, he noted that the company is nevertheless "definitely looking at" ammonia for its future decarbonisation efforts.
The 2024 timeline appears to be calibrated to take into account the initial commercialisation of the first shipping engines capable of burning 100% ammonia.
So far, there have been no orders for ammonia-powered vessels from shipping companies, although there are currently 130 "ammonia-ready" vessels on the orderbooks, as well as six "hydrogen-ready" vessels, according to shipbroking giant Clarksons Research. These ammonia- and hydrogen-ready vessels will be designed with a later conversion to alternative fuels in mind, however they will run on conventional bunker fuel until then.
But as technology advances and engineers race to bring their first ammonia-capable engines to market, the picture could change. MAN Energy Solutions is targeting 2024 for its first commercially-available two-stroke dual fuel ammonia engine for ocean-going vessels in 2024, and has a tentative agreement in place to supply Japanese shipping company Mitsui OSK. Finland's Wärtsilä, meanwhile, is developing a two-stroke ammonia engine that can be retrofitted to vessels in 2025.
And Japanese shipper K Line last month secured approval in principle from standards firm Class NK for the design of its ammonia-fuelled bulk carrier, with a view to taking delivery of the vessel in 2026.
Unlike green ammonia (NH3), which is made from green hydrogen combined with nitrogen from the air via the Haber-Bosch process, green methanol (CH3OH) is made by combining green H2 with captured carbon dioxide.
Methanol is not a zero-emission fuel, but it is non-toxic and can be stored at ambient temperatures, and if using captured CO2 and green hydrogen, the emissions can be reduced by up to 90% when compared to conventional bunker fuel.
Ammonia, by contrast, is extremely toxic and carries significant safety concerns, as well as questions about its efficiency as a fuel.
Methanol is also more energy dense by volume than ammonia — at 4.33kWh/litre compared to ammonia's 3.5kWh/litre — and both are more energy dense and easier to transport than either liquid or compressed hydrogen (which have a volumetric energy density of 2.4KWh/litre and 1.2kWh/litre respectively).