European ship operators that invest in green hydrogen-based fuels will be rewarded twice over for their emissions savings under upcoming EU maritime regulations, sources have told Hydrogen Insight.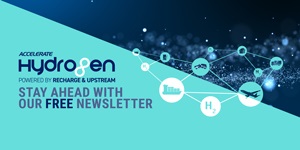 Hydrogen: hype, hope and the hard truths around its role in the energy transition
Will hydrogen be the skeleton key to unlock a carbon-neutral world? Subscribe to the weekly Hydrogen Insight newsletter and get the evidence-based market insight you need for this rapidly evolving global market
In addition, the EU is reportedly aiming to use the new regulations, known as FuelEU Maritime, to push the shipping sector to achieve a 1% share of renewable fuels of non-biological origin (RFNBOs) — typically green hydrogen-based fuels such as green ammonia, green methanol and e-methane — by 2034.
The final version of the FuelEU Maritime initiative, agreed between the European Parliament and European Council in the early hours of this morning, sets maximum limits on the annual emissions intensity of an individual ship or pool of ships, envisaging a reduction of 2% as soon as 2025, rising to 80% by 2050.
Ship operators would need to report their vessel's annual emissions intensity and pay a penalty if they fail to comply with the gradual carbon reductions, which will be measured against 2020 levels of 91.16gCO2/MJ of on-board energy use, including energy used for propulsion.
Emissions intensity — which would also methane and nitrous oxide (NOx) as well as carbon dioxide — will reduce by 6% in 2030, 14.5% in 2035, 31% in 2040, 62% in 2045 and 80% in 2050.
Although the regulation is purportedly technology neutral, those opting to use fuels classified as RFNBOs would be allowed to count those emissions savings twice for a decade from 2035, in order to incentivise first movers into hydrogen-based fuels and reflect the extra capital costs and risks involved.
The regulations will apply only to large EU-registered ships with a gross tonnage of at least 5,000, but the EU intends to review this in 2028 and consider extending it to smaller vessels and those registered internationally.
Furthermore, the final draft of the rules will target a 1% share of total shipping emissions from hydrogen-based fuels by 2034, with an in-built trigger mechanism to raise it in 2031 to 2% if the European Commission reports that the industry is not on track to achieve the original target.
The measures represent a significant change from earlier versions of the rules, which were changed as a result of pressure from Members of the European Parliament keen to incentivise the uptake of hydrogen-based fuels.
The final version of the regulations has yet to be drawn up but will be released by the European Parliament shortly, Hydrogen Insight understands, before being formally adopted.
"In order to encourage the early market development and deployment of the most sustainable and innovative fuel technologies with growth potential to meet future needs, a dedicated incentive for renewable fuels of non-biological origin (RFNBO) is necessary," reads a draft amendment to the FuelEU Maritime document by the European Parliament, seen by Hydrogen Insight.
"This family of fuels has high potential to introduce renewable energy into the marine bunker fuel mix. In view of significantly higher production costs for RFNBOs in the short and medium terms, it is important to ensure a degree of demand that supports investment in such family of fuels."
Several shipping companies, such as Maersk, are already investing in methanol and ammonia propulsion.
But proposals to introduce hydrogen-based chemicals into the shipping fuel mix has garnered significant criticism, especially about the economic and practical viability of pure hydrogen, and the safety implications for using ammonia as a fuel.
Nevertheless, the move was welcomed by the hydrogen industry in Europe, which praised the European Parliament's commitment to RFNBOs.
"Overall, we are pleased with the shape the regulation is taking and we congratulate the co-legislators in reaching the agreement, even if the ambitions are not to the level that the hydrogen industry was asking," said Darko Levicar, director of mobility at Hydrogen Europe.
"We know that the maritime sector is global and that traditionally it takes longer to implement and adjust to new changes, but we are confident that by the revision date of 2028, the industry will already show commitment in the uptake of RFNBOs and create an environment for higher ambitions by the end of the decade."