In 2020, US-based hydrogen fuel-cell vehicle manufacturer Hyzon said it could deliver thousands of fuel cell trucks and buses by 2023, and was valued at $2.8bn when it went public last year.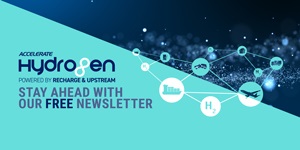 Hydrogen: hype, hope and the hard truths around its role in the energy transition
Will hydrogen be the skeleton key to unlock a carbon-neutral world? Subscribe to the weekly Hydrogen Insight newsletter and get the evidence-based market insight you need for this rapidly evolving global market
Now, after only a handful of vehicle deliveries, the company risks expulsion from the Nasdaq stock exchange after admitting it had failed to report its financial results from the past two quarters.
Nasdaq has announced that Hyzon's earnings for the past six months must be filed by 13 February 2023 at the latest, while a summary of the company's ongoing internal investigation has to be submitted by 16 January. By 1 December, the company also has to clarify a new plan to comply with filing rules to the US financial authorities.
Failure to meet any of these requirements could result in the company being delisted from the Nasdaq exchange.
Why has Hyzon not produced financial results?
Last year began well for the hydrogen truck company. Hyzon had just been listed on the Nasdaq stock exchange through a speedy SPAC-deal — in which it merged with a listed company, allowing it to bypass the time-consuming scrutiny by financial authorities normally involved in a traditional stock exchange listing. And its share price had risen by almost 60% by early February to a high of $16.50.
In March 2021, it announced it was building the largest fuel cell material production facility in the US, and continued announcing orders, including its largest ever in September 2021 for 500 trucks from Chinese logistics company Shanghai HongYun.
But in that same month, professional short seller outlet Blue Orca Capital released a report that made a number of serious allegations against Hyzon, including that:
Shanghai HongYun was a "fake-looking Chinese shell entity", formed three days before the 500-truck deal was announced, and had no paid in capital or website. "In our opinion, such evidence suggests that Hyzon announced a major order with a fake looking Chinse customer just to pump its stock price," the report said.
Hyzon's next largest customer, a New Zealand startup named Hiringa, was not ordering 1,500 trucks as Hyzon had claimed, it was merely facilitating marketing and selling the trucks in New Zealand.
Top-tier customers like Coca Cola, Ikea and Heineken appeared as customers and partners in an initial investor presentation, but were removed from later presentations without any substantial revisions of projected revenues
Hyzon was in fact a repackaged 17-year-old Chinese company called Horizon that had been struggling with decreasing fuel cell sales.
Blue Orca did not attack Hyzon's technology, but said the financials did not look promising — it suggested Hyzon would continue losing money for the next five years, and that margins on vehicle sales would be 5%.
Hyzon countered that it had never stated HongYun and Hiringa were firm customers and end-users, and called Blue Orca's claims misinformed and misleading.
Although Hyzon strongly refuted the allegations from Blue Orca, and although the share price has been fluctuating over the past year, it has never recovered from the $9.35 price when the allegations were made, and had reached an all-time low of $1.61 at the time this article was published — a 90% drop from its February 2021 high.
Hyzon was not the first technology company to be subject to serious allegations from activist short seller-related companies – just a year earlier, the promising truck company Nikola, which was worth more than the US car maker Ford, had been attacked with serious allegations by the short seller-backed Hindenburg Research.
A subsequent investigation by the US Securities and Exchange Commission (SEC) found that Nikola CEO Trevor Milton had committed securities fraud, for which a jury found him guilty last month.
The SEC launched an investigation into Hyzon in January 2022, demanding the company provide documents related to Blue Orca's allegations — and the company's situation went from bad to worse:
In its 2021 annual report, Hyzon said the negative publicity had adversely affected the brand, and as a result, customers and partners had cancelled, sought to cancel business and failed to place new orders with the company.
In August 2022, the company said its previous financial reports should no longer be relied upon, including the 2021 annual report and the report for the 2022 first quarter.
In the same filing, Hyzon withdrew all financial and operational guidance previously submitted to the public through US financial authorities.
The company also stated that an internal investigation was looking into what it called "certain issues regarding revenue recognition timing and internal controls and procedures", primarily in its China operations. The issues were expected to cause significant changes to the financial results, but the final impact was not yet determinable, it said.
The company added that it had identified operational efficiencies in Hyzon's European operations with its German partner Holthausen, which could have "material adverse effect on its ability to produce and sell vehicles".
Also in August, Hyzon ousted its CEO Craig Knight and named its former chief strategy officer Parker Meeks as interim CEO.
According to the investor website, Seeking Alpha, it is now "difficult to assign any value to [Hyzon] besides its shrinking cash balances", as the company has not filed financial results and its outlined strategy was "apparently being null and void". But the company reportedly had cash of more than $400m by the end of March 2022, according to Seeking Alpha, which could be "enough liquidity to see it through the turbulence".
Hyzon Motors has been approached by Hydrogen Insight for comment, but has not yet had any response.