Northern Europe has a huge potential to produce hydrogen and e-fuels for other regions that is likely to lead to the emergence of "a new energy landscape", said Orsted's Power-to-X chief operating officer, Anders Nordstrom, as the global renewables giant began construction of the continent's largest green methanol project.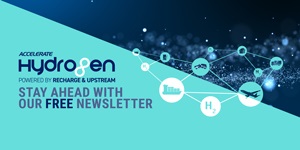 Hydrogen: hype, hope and the hard truths around its role in the energy transition
Will hydrogen be the skeleton key to unlock a carbon-neutral world? Subscribe to the weekly Hydrogen Insight newsletter and get the evidence-based market insight you need for this rapidly evolving global market
On Wednesday, Denmark's Orsted — the former national oil company that has now fully exited fossil fuels — broke ground on its more-than-SKr1.5bn ($139m) FlagshipONE plant in Örnsköldsvik in northern Sweden, which will churn out 50,000 tonnes of e-methanol annually from 2025 to supply a growing global fleet of methanol-powered ships.
The e-fuel will be produced from green hydrogen made using a 70MW electrolyser fed with power from onshore wind and the addition of CO2 captured at a nearby biomass combined-cycle plant.
To source its renewable power, the Danish developer can tap directly into the grid, which lies in Sweden's "zone two" of transmission that already carries more than 90% green electricity. Orsted is also in dialogue with several potential power suppliers, Nordstrom told Hydrogen Insight's sister publication, Recharge.
Northern Sweden is home to several of Europe's largest wind farms and projects on land, such as the giant Markbygden complex.
"One of the reasons why, financially speaking, this location is so good is the availability of electrons as well as the availability of biogenic CO2 — basically, the feedstocks you need for production," Nordstrom said in an interview.
For sectors that cannot directly be electrified, hydrogen and e-fuels are "the missing piece" in the net-zero puzzle, he added, pointing to shipping, the chemicals industry and steel making.
"In certain regions with surplus renewable potential, the conversion to hydrogen or e-fuels is going to play a major role."
But what happens in regions not equally blessed with a huge potential for renewable energy generation as thinly populated and windy northern Sweden?
"That's where we need to work together as Europe," he said. "Scandinavia — Sweden, Finland — has huge potential for production of e-methanol because of the availability of green electrons as well as biogenic CO2," Nordstrom said.
"Countries like Denmark, the Netherlands, [or] the UK, for instance, have a huge coastline and more renewable potential for instance in offshore than is actually needed domestically."
Those nations could export green hydrogen to more densely populated economies with lesser renewable generation potential such as Germany, he added.
"For instance, moving renewable hydrogen from Denmark to Germany will be a key element," he said. "I think you'll see a new energy landscape in Europe."
But to build up a hydrogen and e-fuels economy, initial support is needed, Nordstrom insisted, pointing to a significant cost gap between fossil fuels today — which had more than 100 years to mature and bring cost down — and green fuels.
Support can come on the demand side or the supply side, or both, he said, adding that the EU with its Fit-for-55 package, and ReFuelEU Aviation initiative for sustainable air transport and its maritime policy has already been paving the way for support by member states.
As part of its Klimaklivet (Climate Life) scheme for local climate-related investments, Sweden has granted SKr151m for the FlagshipONE project.
"It's important that there is a bit of support in terms of capex [capital expenditure] or risk relief, because, of course, the first project is more difficult and more costly than the second project and the third project," Nordstrom argued.
As well as FlagshipONE, Orsted is advancing its Green Fuels for Denmark project, which has gained the status of one of the EU's Important Projects of Common European Interest (IPCEI), allowing the country to provide state aid. A first phase, with a 10MW electrolyser, is likely to be in operation in 2025. Methanol output and larger production volumes are scheduled to follow later in the decade.
"It's going to be hydrogen for mobility for heavy trucks and then it scales from there basically," Nordstrom said. "We don't see [the first phase] as much as a pilot, but more as a production plan for the transport sector."
A version of this article first appeared on our sister site, Recharge.